Banneker Graduates Challenged to Persevere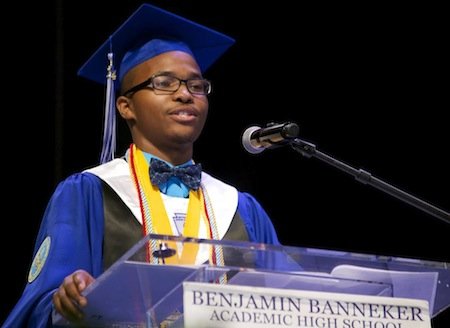 The newest graduates of Banneker High School wouldn't have made it without the support of their parents, teachers, administrators and others.
While none of the people who helped them along the way has gotten rich financially, the non-monetary rewards they reaped every day from helping their protégés achieve their goals, have been priceless.
Those were among the many sentiments shared by U.S. Secretary of Labor Thomas Perez, who served as commencement speaker for Banneker's class of 2014.
"So I am convinced that you are already far ahead of the curve," Perez recently told the 102 new graduates during commencement exercises at Howard University's Cramton Auditorium.
"You are not only ahead of the curve for just about every high school graduate in this area, but in this country, too," the former assistant attorney general for civil rights at the U.S. Department of Justice said to resounding applause from both the graduates and 1,500 people in the audience.
"You've had a remarkable community of [supporters]. You have climbed an incredible mountain and should be proud of yourselves, " said Perez, adding that as the graduates prepare to venture into the vast world that awaits them, they should consider the importance of mentoring, be willing to face adversity and embrace failure.
"In most cases, the mentors you had are going to have an impact on your lives far beyond high school," said Perez, 52, who has held his post since July 2013.
His emphasis on mentoring coincides with President Barack Obama's ongoing thrust at his "My Brother's Keeper," a $200 million initiative created in February to expand educational and workforce opportunities for young African-American young males with the potential for unlimited accomplishments.

"However, life is the search for knowledge and wisdom, and wisdom is what you get when you embrace adversity," Perez said. "Don't be afraid to expand your comfort zone to stay ahead of the curve. Continue to take risks and never be afraid to fail — just learn from your failures."
Perez cited the back-to-back accomplishments of the late Steve Jobs — pioneer of the personal computer who co-founded and served as chairman and CEO of Apple Inc.
"I don't know how anyone gets fired from the company they started," Perez joked in his reference to Jobs.
"But losing the company he started was a catalyst for his [forthcoming] success," Perez said of Jobs, who died in October 2011. "In order to overcome failure, you have to get up in the plate and swing the bat. Use whatever adversity that comes your way to your advantage."
Class salutatorian Ekram Jiru — who graduated with a 4.253 grade point average, and valedictorian, Avery Coffey, who leads his class with a 4.125 grade point average, also offered words of encouragement to their peers.
While a tearful Ekram urged them to "go in the direction of your dreams" and to be confident in the decisions you make, Coffey, who collectively earned $20 million in scholarships and will attend Harvard University in the fall, reminded his classmates that they comprise the latest page of Banneker's book of success.
"At this point in our lives, this is the epitome of our success," said Avery, who's among a handful of African-American students from across the country accepted to attend several Ivy League schools in the fall.
"We all came to Banneker with gifts and untapped potential. We should desire to be the most we can be," he said.