Ettyce Moore Laid to Rest
6/20/2014, 12:50 p.m.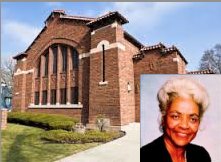 Funeral services were held Friday for Ettyce Herndon Moore, the longtime deaconess at the historic Nineteenth Street Baptist Church in Northwest.
The 89-year-old Moore, who was also a former administrator for the District public schools system, passed away on June 14.
The funeral was held at the church, where her husband, the Rev. Jerry A. Moore, serves as pastor emeritus. The church's pastor, the Rev. Dr. Derrick Harkins, and her son, the Rev. Juran D. Moore Sr., officiated.
She was remembered as a woman of unwavering support and commitment for not only her church, but for community and family.
"If it was in her power, she made it her business to fix things that weren't [right]," Charles Gordon, a District resident and Nineteenth Street Baptist congregant, wrote in an electronic guest book. "She was very approachable and had so many accomplishments in her life. She was a lady who seemed to care and that is part of what made her special to me. She modeled Christ."
She is survived by her husband, Jerry, a former D.C. Council member; two sons, Juran and Jerry A. Moore III; three grandchildren, Juran D. Moore II, Lt. Col. Percy T. Moore and Sydni M. Williams; and numerous great-grandchildren, friends and colleagues.