COMMENTARY: Champion Spurs Challenge Father Time
Charles E. Sutton | 6/23/2014, 3 p.m. | Updated on 6/24/2014, 5 p.m.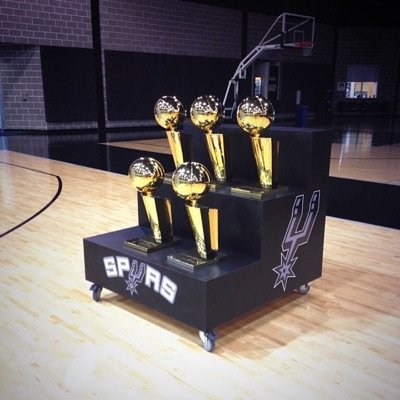 A few weeks ago, when I predicted that the San Antonio Spurs would win the NBA title, everyone in the barber shop where I've gotten my hair cut for the past 10 years laughed at me, including a UPS guy making a delivery at the time.
I'm due to get my hair cut Friday. My mentor has often encouraged me not to say "I told you so." Thus, I won't say it. But I'll certainly be thinking it.
I still find it hard to believe that the Spurs remained under the radar all season long. In spite of them having the best record in the league, all I constantly heard about the Miami Heat and the Indiana Pacers. I, too, was initially among the many who had the Heat winning it for a third straight year.
Meanwhile, with their focused, disciplined, business-like approach, the Spurs continued to steamroll the competition. No chest bumping, no gyrations, no trash talking. All they did was finish the regular season with a league's best record of 62-20.
What I find particularly interesting about most fans is that, rather than focus on the Spurs' qualities, they'd seemingly prefer to focus on the ages of Tim Duncan, Manu Ginobili and Tony Parker. For the record, Duncan is 38, Ginobili is 36, and Parker is 32. I know, those are not young players by NBA standards. But all three of them have been and still are very effective, champion-caliber players. Quite frankly, I'd rather have a team full of older players that are getting it done than a young team that consistently comes up short.
Conventional wisdom says that you can't beat Father Time. I agree, but thus far, Duncan, Ginobili and Parker have given Father Time a black eye and a fat lip. Of course, at some point they won't be able to perform at their current level. However, Duncan continues to be one of the steadiest power forwards in league history, Ginobili still knocks down big three-pointers and Parker manages to get to the basket on a regular basis.
And, contrary to popular belief, the Spurs actually aren't that old. Small forward Kawhi Leonard will turn 23 on Sunday. Patty Mills is 25 and Danny Green is 27. Tiago Splitter and Marco Belinelli are also in their 20s. Of course, the Spurs are led by their more seasoned players, but each member of their supporting cast made valuable contributions during the regular season and postseason as well.
Under the leadership of head coach Gregg Popovich — arguably the best coach in the game today — the Spurs have a roster that would make the United Nations proud, sporting players from France, Australia, Argentina, Brazil, Italy and the Virgin Islands. There have been several occasions upon which none of the five Spurs players on the court is American.
Sure, Miami has the Big Three in LeBron James, Dwayne Wade and Chris Bosh. They have large commercial endorsements and big-time celebrity status. Wade's fiancée, Gabrielle Union, is even a celebrity actress. But having your image plastered on billboards doesn't win championships. Perhaps the Heat should take a page out of the Spurs' book. Spend more hours focused on basketball and less time on promoting self and marketing products. Rather than seeking stardom, seek to implement those things that will help your basketball team to improve.
I can't speak for you, but it seems to me that unless the Heat does something significantly different, their best basketball might be behind them (especially if LeBron's days in South Beach are finished). On the other hand, the Spurs seem to improve like a fine Cabernet. There's no reason to believe that they won't compete for the championship again next season. And let's not forget that Carmelo Anthony is a free agent now, too. If the Spurs manage to nab 'Melo (not as far-fetched as it sounds), they'll be the favorite to win it all again.
The Spurs have knocked down Father Time twice and currently have him on the ropes. We all know that it's ultimately a losing battle. But the Spurs may be putting up one of the best challenges of all time.