Brown Cruises to Victory in Md. Gubernatorial Primary
Joshua Garner | 6/24/2014, 9:26 p.m. | Updated on 6/25/2014, 5:28 a.m.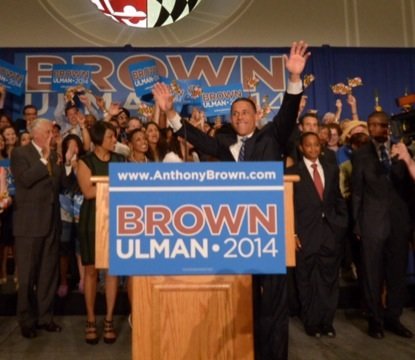 Maryland Lt. Gov. Anthony Brown moved closer to becoming the state's first African-American governor after clinching the Democratic nomination during Tuesday's primary election.
News outlets declared Brown the winner less than two hours after polls closed at 8 p.m. across the state. Brown captured more than 50 percent of the tally on Tuesday night. His closest rival, Maryland Attorney General Doug Gansler (D), captured just over 24 percent of votes tallied so far followed by Del. Heather Mizeur (D) with more than 22 percent.
"Maryland is a great state. But we know that it can be better, and it can be better for more Marylanders," Brown said to a packed room of supporters at the University of Maryland, College Park Tuesday evening. "Maryland needs a governor who will lead our state. Who, with you, will write the next great chapter in our future."
The son of a Jamaican father and a Swiss mother, Brown, 52, stands to become the third elected African-American governor in the U.S. should he go onto win the Nov. 4 general election where he will face Republican challenger Larry Hogan.
The Maryland electorate traditionally favors Democratic candidates and the winners of the primary are expected to sweep victories during the general election.
And during Brown's victory celebration, he made it clear that he intended to eye another victory in November.
"I'm looking forward to the next 133 days, where I hope we'll discuss the issues that matter most to Marylanders and their families."
As election tallies came in, Brown supporters yelled and cheered while music from The Temptations, Beyonce, and The Staple Singers blared from speakers.
"[Brown winning] is an amazing feeling," said Tiaa Rutherford of Bowie who joined a crowd near a stage at the campus's alumni center to hear Brown speak. "It shows America how progressive the state is – it's phenomenal. It says a lot about the people of Maryland."
Brown's rise to state office began in 1999 after being elected to the Maryland House of Delegates. Brown became a war veteran after being deployed to Iraq as a member of the U.S. Army in 2004. Boasting a military record and a stronghold in Prince George's County, the state's second largest population, Brown joined a gubernatorial ticket with Gov. Martin O'Malley winning election in 2006 and again in 2010.
Brown announced his candidacy for governor in May 2013 and initially faced tough competition from Gansler. But headed into the spring of this year, Brown's campaign picked up steam and swept key endorsements.
"I'm looking forward to his leadership," said U.S. Rep. Donna Edward (D-Dist. 4) during the night's event. "I think Brown has displayed the temperament and ability to move our state forward."
Brown supporters said he focused on the issues that matter to voters – jobs, education, and the economy – while running a clean campaign and relying on his record with the O'Malley administration.
"People wanted to make sure they had a steady hand in the governor's office," said U.S. Rep. Elijah Cummings (D-Dist. 7). "They believe that Brown will build upon what O'Malley has done."