D.C. Housing Expo Attracts First-Time Homebuyers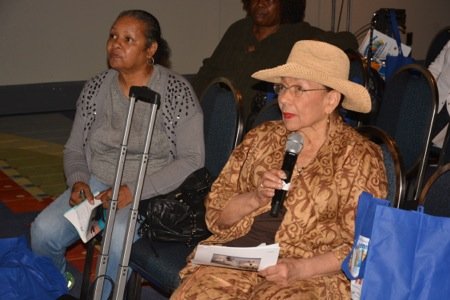 For a day, the District's convention center morphed into a one-stop shop for residents eager to purchase a new home, get interior design tips or talk to mortgage brokers.
More than 1,500 District homeowners and potential first-time homebuyers filed through the massive glass doors of the Walter E. Washington Convention Center in Northwest to attend the 6th Annual DC Housing Expo and Home Show. A bevy of realtors, credit counselors and staff from local civic organizations and government agencies on hand answered visitors' questions about affordable housing opportunities, underwater mortgages, and home repairs.

"It's a difficult economic environment and people need these tools to better respond to market changes," said Michael P. Kelly, 60, director of the D.C. Department of Housing and Community Development (DHCD). DHCD, based in Southeast, co-hosted the Saturday, June 21 event with the Greater Washington Urban League in Northwest. "I want people to have some confidence that they're not alone. There are resources and people available to respond to various needs," he said.
This year's housing expo featured more than 100 exhibit booths chock-full of information about home purchase assistance, financial literacy and energy efficient home products. Representatives remained nearby to answer inquisitive homebuyers' questions. The inaugural Home Show featured a variety of home improvement products including windows, flooring and cabinets. Visitors also received free credit reports and one-on-one credit and foreclosure counseling.

"I'm searching for housing opportunities," said Stanley Walker, 56, an elementary school teacher and one of many potential homebuyers that attended the expo.
Walker, a lifelong D.C. resident, said he started his search for a house earlier this year.
"I'm going to retire in about six years and I want to determine if it's smart for me to stay in [the District]. I'm looking for a house that I can fix up. Finding a good deal on a home would definitely make me think twice about moving down to the Carolinas or Georgia," said Walker who lives in Southeast.

Some visitors, like Lisa Smith*, walked into the Walter E. Washington Convention Center in the hopes of selling their home. Smith, who now lives less than a mile from the Minnesota Avenue Metro Station in Northeast, said that a weak housing market has put a damper on her plans to move to the Brookland neighborhood or communities near the H Street corridor, also located in Northeast.

"My neighborhood has not caught up with the development in the other parts of the city," she said. "Now I'm in a situation where I can't get the total amount that I paid. I have no choice but to rent the [house]. I've invested a lot of time in that area and I don't want to stay any longer."
The housing expo also provided some longtime homeowners an opportunity to look for home improvement services. During a session at the Senior Housing Pavilion, Alice Davis suggested that the D.C. government compile a list of reliable companies that seniors could reach out to for home repairs.

"We need people with experience that are committed to maintaining older homes in the District and serving seniors," said Davis, who has owned a home in Mt. Pleasant in Northwest for more than 60 years. "We would always use that list when we have issues and it would make home repairs easier."
A post-recession boom and urban redevelopment in recent years has driven up the cost of living in the District. In May, the median price for homes sold in D.C. skyrocketed to more than $412,000.
Renters have fared far worse in the current economic climate. A 2014 National Low Income Housing Coalition report found that minimum wage employees would have to work at least 132 hours per week, or hold down 3.2 jobs to pay their rent and other living expenses.



A lack of affordable housing didn't discourage Alquanita Williams who lives in Northeast from trying to realize her dream of purchasing a home on Capitol Hill. Williams, who attended the housing expo for the second consecutive year with her husband, said she received her credit report and counseling for a $3,000 heating bill that she had difficulty paying.


"The expo always has good information," said Williams, 51. "It's about how you use it. Getting the house you want takes longer than expected but it's less stressful when you get it properly.
"This [is my chance] to improve my credit history and put some money aside," Williams said with a broad smile.
*This name is a pseudonym.