D.C. Program Aims to Reduce Children's ER Visits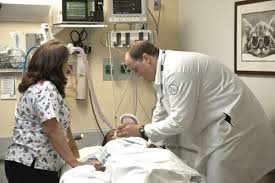 D.C.'s largest Medicaid-managed care organization recently launched a program to help parents better diagnose common childhood illness, part of an effort to stem children's visits to emergency rooms.
AmeriHealth District of Columbia, which has more than 100,000 members in the city, said its "4 Your Kids Care" program aims to reduce the high volume of pediatric patients being admitted to the emergency room by educating parents, referring families to appropriate resources and encouraging them to cultivate ongoing relationships with their primary care physicians.
"It is sometimes difficult, particularly for first-time parents, to identify when a child is sick with a manageable illness, and when a child truly needs to go to the emergency room. This program provides parents with the tools they need to make the right choices for their children," said Karen Dale, executive director of AmeriHealth District of Columbia.
According to the most recent information released by the Children's National Medical Center, there were 14,944 inpatient admissions for a one-year period. Its emergency room had 117,959 visits over the same time frame.
AmeriHealth District of Columbia members who choose to participate will receive a "4 Your Kid's Care" first aid kit, the how-to book, "What to Do When Your Child Gets Sick" and a certificate of completion. Child care and transportation will be available at no cost to all participants, who must be members of AmeriHealth District of Columbia. To register, call 1-877-759-6224.