P.G. County Voters Trickle Into Polls
Primary Election Marked by Low Turnout
Joshua Garner and William J. Ford | 6/24/2014, 5:43 p.m. | Updated on 6/24/2014, 9:06 p.m.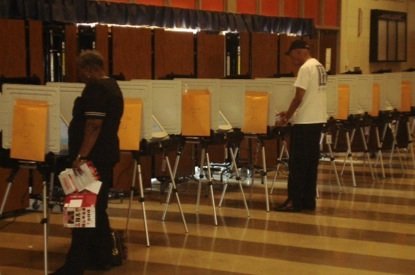 Voter turnout in Prince George's County continued at a slow pace Tuesday during the Maryland primary election.
Voting precincts across the county reported Tuesday afternoon that turnout for the primary election was trending below the 2010 election. By midday, the Prince George's County Board of Elections reported that turnout among voters hovered around 4 percent, though that number could swell to 12 percent once votes are tallied, according to the board.
"It's been slow," said Katherine McCluskey, a chief election judge, as she looked out into a large, empty gymnasium at a voting precinct at Bowie State University. "Something like this, you never know what's [going to happen]."
Shortly before 4 p.m., McCluskey said the precinct's votes tallied 74 and was trending lower than the 2010 election. Voting precincts in Oxon Hill, Laurel, and Largo also reported low tallies before the evening hours. Precincts close at 8 p.m.
Through the D.C. region, voters have had a tepid response to the 2014 election cycle, with jurisdictions in Maryland following the same trend.
The Maryland electorate traditionally votes Democratic and the winners of the primary are expected to sweep victories during the general election on Nov. 4.
"If you don't vote in the primary, then you may not get the choices you wanted when it comes to the [general] election," said Michele Blair, 52, as she exited a voting precinct at the Laurel Boys and Girls Club early Tuesday afternoon. "The primary is the first cut."
Still, voters in southern Prince George's County said they were excited to see the state potentially elect Lt. Gov. Anthony Brown (D) as its first African-American governor.
Brown, a native of Prince George's County, is among six other democratic candidates — including state Attorney General Doug Gansler (D) — hoping to win the Democratic primary.
Vardrine Carter of Largo compared this year's election to when she first voted for President Obama in 2008.
"To [potentially] have the first Black governor in Maryland and who is from Prince George's County is incredible," said the 67-year-old shortly after voting at Largo High School.
She lamented the low voter turnout, which she said could be a deciding factor.
"We have this huge population in the county and not as many people are coming out," she said.
Besides voting for Brown, Carter would like the county to raise the minimum wage, increase time off for parents with young children and funnel more money toward programs for teenage Black males.
Jay Armstrong, 37, of Oxon Hill said he didn't have any particular issues when casting his ballot. One of his main focuses was voting for Brown.
"Hopefully he can make an impact in being on top," he said. "Hopefully, he can build an agenda that most can agree on. Also being from Prince George's County he can … help this area."
For more Prince George's County/Maryland news, follow @JoshuaGarnerDC on Twitter.