Students Win D.C. 'Civili-Tea' Contest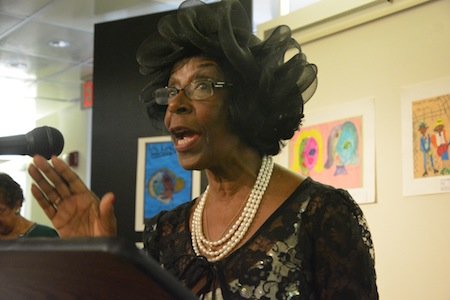 Vibrant paintings containing magenta, turquoise and violet, along with black and white sketches and photographs, brighten the Pepco Edison Place Art Gallery walls and picture window in Northwest thanks to District students who produced the original art for the High Tea Society-Girls Connected inaugural "Civili-Tea" Citywide Creative Expression contest.
Members of the nonprofit, Northeast-based High Tea Society-Girls Connected developed the contest and hosted a June 13 awards ceremony at Pepco headquarters on Ninth Street. The organization mentors low-income D.C. public school students by exposing them to cultural and educational enrichment activities. Students also learn appropriate social behavior through afternoon tea gatherings.
"D.C. public and charter school students entered the contest and produced art focusing on the theme, 'civility,'" said Judge Mary Terrell, founder of High Tea Society-Girls Connected. "We especially wanted to provide an outlet for self-expression to any [District] children who have [experienced] trauma in their lives."
Eliyah Lister, a seventh grader in Northwest's Deal Middle School, expressed surprise at being the Overall Winner and placing first in the Grade 6 to 7 category, for her painting of Metro riders, "The Morning Commute." It featured an individual offering a seat to a standing rider.
"Sometimes I'm on the Metro and I see people do the nicest things for others," said Eliyah, 13. "I wonder why people don't do this all the time [in all situations]."
The Overall Winner's art will be posted in the Metrorail station closest to her neighborhood, and on select Metro buses. "I think mine will be at the Tenleytown-American University station [on the Red Line]," Eliyah said, beaming with pride.
Some contestants didn't know what "civility" meant, until submitting artwork. Illustrating "civility" proved challenging.

"I gave everyone in my art class the definition, and explained the contest rules and theme," said Carmen Jenkins-Frazier, the art teacher at Truesdell Education Campus in Northwest. "I had them act out instances of civility. I asked them to hold their poses or 'freeze' in place to create a tableau, or 'frozen' picture. I photographed them so they could see what they had acted out."
Mykia Dohawk, a sixth grader at Truesdell, won second place in the Grade 6 to 7 category with her photographs of girls enjoying each other's company, entitled, "Civility: Respecting Those Who Are Different." Kenya Byrd, a Truesdell eighth grade student, won third place in the Grade 8 to 10 category with her photographs entitled, "Act of Civility: Encouragement and Praise," portraying girls giving each other encouraging hugs.
Tim Mahi Mamadou, an eighth grader at Cardozo Education Campus in Northwest, won first place in the Grade 8 to 10 category for his black and white self-portrait. "I inspired myself [for this artwork]," said Tim, 16, who couldn't stop smiling. "I liked how my Afro looked the day I painted the portrait." On a card posted beneath his "Portrait and Study of the Self," he wrote "To survive incivility, one must know [oneself], develop character, self-confidence, and the ability to look [oneself] in the face in order to press forward."