Asthma Sufferers Receive Good News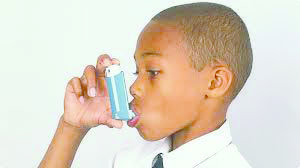 A recent estimate provided by the Centers for Disease Control and Prevention in Atlanta revealed that 44,405 adults in the District of Columbia live with asthma.
Additionally, 13,981 children in D.C. have the chronic inflammatory disease that swells and narrows the airways and causes coughing, wheezing and breathing difficulties. Also, many who have the disease are African Americans who often are forced to rush to emergency rooms at alarming rates, officials said.
"Living with asthma isn't by any means a cake walk," said Keith Brown, a retired Army sergeant who recently moved to Richmond, Virginia, after splitting time between Northwest Washington, D.C. and Alexandria, for three decades.
"Sometimes you are aware when an attack is coming, but most of the time it's unexpected and it's a devastatingly helpless feeling," said Brown, 49.
However, a new study released by the Centers for Disease Control and Prevention (CDC) offers hope to sufferers like Brown.
Released on June 19, the survey suggests that asthma in the U.S. may finally be on the decline. Over the past several years, about 8.6 percent of Americans have reported that they have asthma, but the CDC's study, which officials conducted over the past year, noted that the number has decreased to 7.4 percent, the lowest mark in 10 years.
"We're not really sure what's going on," said Jeannine S. Schiller, who holds a master's in Public Health and works for the CDC's National Center for Health Statistics in Hyattsville, Maryland. "It was pretty flat for a few years, and then it dropped this year. We don't know why. There was nothing that happened in public health or environmentally that you would say, 'Oh, that makes sense,'" Schiller said.
CDC officials said the largest decline could be seen in African-American children and women. "Anytime there is some health report, we seem to always come out on the short end of the stick so it's interesting that they are saying we are doing better with asthma," said Terry Strothers, a forklift operator who lives in Northeast.
"I have had asthma all of my life, but I guess I'm one of those who haven't had any recent problems but, for a long while here, I thought it was going to take me at some point," said Strothers, 55.
The study, where more than 47,000 adults and children took part in interviews with health officials, also revealed that asthma attacks declined from 4.4 percent in 2012 to 3.8 percent last year, the lowest mark in more than 15 years.
Locally, health officials said the National Capital Asthma Coalition in Northeast works to build a sustainable system of care to reduce emergency room visits, hospitalizations and school absences, and to improve the quality of life for children and adults with asthma.
The group uses three key strategic areas to help accomplish its goals, including a collaborative intervention demonstration project to improve care management and delivery for at-risk children, a professional and community education program, and coalition-building activities that enhance coordination, policymaking and resource-sharing.