Barry Feted at Event Marking Book Launch
Coincides with Kickoff of Informer's 50th Anniversary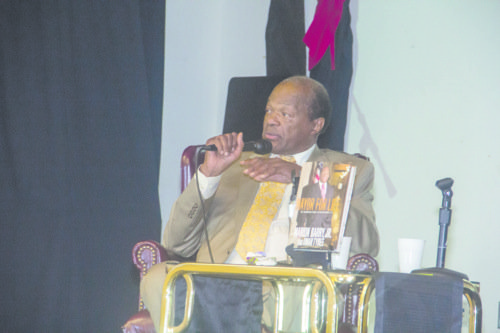 If anyone doubted the deep love and affection people have for Ward 8 Council member Marion S. Barry Jr., the scene at the end of a June 23 event should have removed all uncertainty.
A throng of admirers – several dozen people – lined up in front of the stage of the Old Congress Heights School to have Barry sign their book, greet him and pay homage to him for his more than 40 years of public service. Later they converged, surrounding the four-time mayor as he soaked up the attention and adulation, dutifully signing books while conversing and catching up with old friends, associates and residents.
"I thought it was a great evening. I'm glad to see him get his accolades," said Kay Hixson, a communications professional who once served as Barry's communications director. "Most of the development we see in the city now can be attributed to him and a number of the people in power, he put them there."
Greenbelt resident Charles Motte shared Hixson's sentiment.
"I think it was excellent," said the 52-year-old consultant. "It really gave me an opportunity to appreciate a slice of history and see a legend in a very personal form. Everything was what I'd heard before but it was great hearing it again with the subtle details around it and the context."
Barry, 78, shared the stage with Informer Publisher Denise Rolark Barnes during a more than hour-long conversation, fielded questions and talked about different aspects of his life, from growing up in rural Mississippi to his years as a protégé of the Rev. Dr. Martin Luther King to running the city during both Washington's halcyon and turbulent years.
The event had a dual purpose: marking the official release of Barry's book, which he co-wrote with best-selling author Omar Tyree, and also serving as the official kickoff of the Washington Informer's 50th anniversary celebration. Barnes' father, Dr. Calvin Rolark founded the paper in October 1964.
A grateful Barry thanked Rolark Barnes and a succession of people he said helped him along the way in the past and the present.
"The person I really appreciate is Zane. She gave me the opportunity. She's a writer herself. How many books Zane?"
"Thirty-four," said Zane, novelist, author and owner of Strebor Books, a division of Simon & Schuster which published the book, "Mayor for Life: The Incredible Life of Marion Barry, Jr."
During a recent interview, Zane expressed her pleasure in having secured the book deal which she said was long overdue.
"I've known Mr. Barry for many years and it (the book) never came to fruition," she recalled. "I met him at a friend's house … and I told him he should do the story. Eventually, I had lunch with him and we worked out the deal. It's important for him to tell his story. He truly is caring and compassionate about the people in D.C. When he talks about the people, he wants to help. It's very important to him."
"When people need help, he's always been there. He's a great man, who has done great things for the city. He gave a lot of people an opportunity."