Black Theatre Festival Returns to D.C.
Fifth Anniversary Attracts Patrons from Across the Nation
D. Kevin McNeir | 6/25/2014, 3 p.m.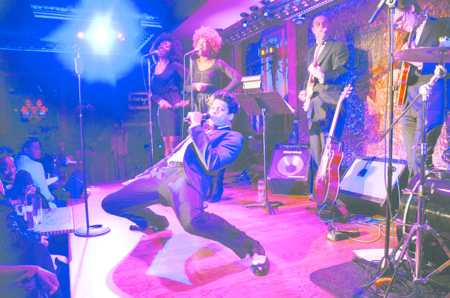 Sightings of black luminaries from Sojourner Truth and Muhammad Ali to Paul Robeson and Jackie Wilson have been reported at various venues throughout the District.
But don't be alarmed – they're actually actors portraying these and other historical figures, past and present, as part of the Fifth Annual DC Black Theatre Festival – a 10-day event that kicked off on June 20 and runs through Sunday, June 29.
"It's a great balance of seasoned actors, playwrights, poets and other professionals as well as those working hard to get their foot in the door," said Roberta McLeod, director of the Armour J. Blackburn University Center at Howard University. "I've watched this festival grow over the past five years and continue to be amazed by the high level of talent including the diamonds in the rough who often don't get the chance to perform on major stages," said McLeod, 69.
Howard's Ira Aldridge Theatre in Northwest serves as the site for several new plays, including "In the Cut: The Unfinished Life of Trayvon Martin," "I Still Love H.E.R. (A Tribute to Hip-Hop)," "Laundry Room" and "Confessions of a Good Man."
Since its founding five years ago and under the leadership of executive director, Glenn Alan, the festival has added music, film, dance and storytelling events to its playbill, gaining national acclaim and this year expanding to 10 different theaters in and around the metropolitan area.
Last Friday's opening play and gala, held at THEARC in Southeast, featured, "The Eve of Jackie," starring Chester Gregory as singer Jackie Wilson. Gregory, who put together the framework of the play, along with friends Dawn Bless Mitchell and Crystal Lucas-Perry, has been traveling the country in the title role.
"It's truly an honor to portray someone like Jackie Wilson but my goal has never been to imitate but rather to emulate him and celebrate his artistry," Gregory said. "These regional festivals are essential to actors like me because they help us to establish the foundation for a solid work ethic. I started in a 75-seat theater in Chicago. In August, I'll be touring the country in "Sister Act, The Musical," said the Indiana native.
One Southeast resident and retired educator said she's pleased to see how the arts are taking off in the Anacostia area.
"Our youth need to know about blacks in the arts who made it possible for today's entertainers like Lil Wayne, Nicki Minaj and Jay-Z to claim their place and achieve stardom," said Jennifer Gibbs-Phillips, co-founder of the Washington Middle School for Girls, whose classes are held on the second floor of THEARC. "Watching Chester [Gregory] on stage took me back to the early 60s in my hometown of Jacksonville, Florida when we danced all night to the music of Jackie Wilson," said Gibbs-Phillips, 67.
Southeast resident Nana Malaya, a choreographer and storyteller, took to the stage on June 25 in "One Voice: Poetry in Motion," a show blending hip-hop, music and poetry "grounded in the African aesthetic," in one of the District's newest performing arts venues, the Anacostia Arts Center in Southeast. She said the festival serves an essential role: exposing young people to potential careers in the arts.