Black Vote Helps GOP's Cochran; Rangel Hangs On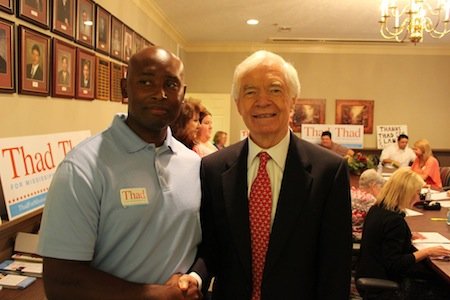 Anthony Brown and his successful bid for the Democratic gubernatorial nomination was the focal point for most African-Americans on election night Tuesday, but blacks also quietly played a big role in a veteran Republican senator's defeat of a tea party favorite in the Deep South.

Sen. Thad Cochran of Mississippi fended off Chris McDaniel, 51 percent to 49 percent, in a run-off election, but he had to get help from the unlikely source of the African-American community.

Mississippi is 37 percent black, the largest percentage of African-Americans of any state. In predominantly black neighborhoods of Hattiesburg's south side, one resident said that he had been encouraged to vote for Cochran by his pastor.

"They say the other guy is trying to cut food stamps and all that," said Ronald Wilson, 50. "I'm trying to look after the majority of people not working."
Elsewhere, New York Rep. Charles Rangel, a 22-term congressman and the third-most senior member of the House, held on to defeat state Sen. Adriano Espaillat. The race was called Wednesday afternoon for the venerable lawmaker, who finished with fewer than 2,000 votes more than Espaillat.
Despite his years in Congress and having served as chairman of the powerful Ways and Means Committee, Rangel, 84, was censured by his colleagues for violating tax laws several years and many believe that he is in the twilight of his congressional career.
Two years ago, Rangel won in the Democratic Party primary for his seat by fewer than 1,100 votes and his district is now 55 percent Hispanic.