BUSINESS EXCHANGE: Standing In the Gap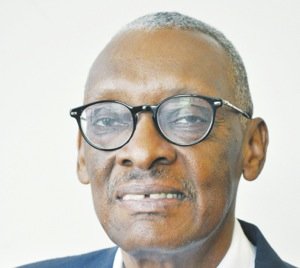 [God] searched for someone to stand in the gap — Ezekiel 22
Every advanced nation in the world is a free-market capitalist country. To be successful in a free-market economy requires vision and strategic planning. Too few African-American households boast of being successful free-market practitioners, thankfully Curley M. Dossman, Jr. and 100 Black Men of America, Inc. are standing in the gap of wealth and income inequity grooming Black youth in business and enterprise.
The 100 Black Men of America, Inc. professes a mission to improve the quality of life within African-American communities and enhance educational and economic opportunities where they live. The group is leading and teaching African Americans through programs and efforts that create environments that motivate young people to achieve, and become self-sufficient shareholders in the nation's overall economic and social fabric. The 100 Black Men has more than 100 chapters with more than 10,000 members. It also has more than 100,000 annual youth participants in mentoring and youth development programs.
The "100" is comprised of local Black professionals that are teaching and mentoring in their communities. Community partisans, the 100 have a quantifiable record helping Blacks build and grow. Dossman continues to lead the 100 Black Men of America, Inc. into the future. The fifth president and chairman of the Board of Directors, Dossman aims to provide "impactful leadership that delivers innovative programs." Dossman says his administration is geared toward "the intellectual and economic development of our youth based on the precepts of: respect for family, spirituality, justice, and integrity." Since 1964, members of the 100 have implemented successful programs that have improved African-Americans' quality of life. Chairman Dossman says that over past decades the 100 Black Men of America has changed the trajectory of the lives of tens of thousands of Black youth from victims to victors. He contends that the 100 Black Men are impacting the lives of tomorrow's leaders through signature programs that deliver unique and innovative mentoring initiatives.
Dossman knows his way around the streets and the suites. He's vice president of community affairs and president of the Georgia-Pacific Foundation since 1994. He served as state vice president of government affairs at AT&T from 1984 to 1994. Before that, Dossman worked as a legislative assistant to Senator Russell B. Long from 1979 to 1984. Today, Dossman also serves on the Metro Atlanta Chamber of Commerce and Atlanta Downtown Improvement District. In previous years, he served as the chairman of the National Black Arts Festival and as director of Leadership Atlanta and chairman of the Morehouse College Campaign.
Dossman's leadership is grounded in the Market-Based Management business concept that fuels Georgia-Pacific LLC, an American pulp and paper company headquartered in Atlanta, Georgia. Georgia-Pacific is one of the world's leading manufacturers and distributors of pulp, paper, and packaging, building products and related chemicals. Were it a public company, in 2013 it would have ranked 17 on the Fortune 500 list. Dossman's responsible for community relations program development and administration of the Georgia-Pacific Foundation. One of the leading Black corporate executives in the world, Dossman directs activities of the Georgia-Pacific Foundation and develops and implements the company's overall philanthropic strategies. Georgia-Pacific believes that self-sufficiency and skillful use of economics are indispensable elements of a sustainable and strong community. Dossman administers his portfolio with astute business and organizational insight. Under Dossman, programs such as Youth Entrepreneurs Atlanta, young people are being taught free-enterprise fundamentals in communities and colleges. Dossman's programs spark students' interest in owning businesses and "thinking like an owner."
 "We realize that student entrepreneurs, when nurtured and developed, can create value and free markets" says Dossman. If we want to close the gaps and inequalities that exist between Blacks and other groups in America, we may want to gauge what has occurred when leaders such as Dossman contribute in building our communities and their capacities. Inquiries can be directed to the 100 Black Men of America, Inc., 141 Auburn Avenue, Atlanta, Georgia 30303, telephone (404) 688-5100.
William Reed is publisher of "Who's Who in Black Corporate America" and available for projects via the BaileyGroup.org.