D.C. EDUCATION BRIEFS: Test Scores Banned from 2014-15 Evaluations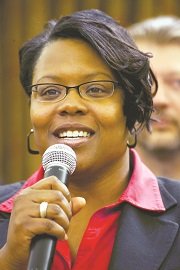 Chancellor Kaya Henderson has announced that student test scores won't be used for teachers' 2014-15 performance evaluations. The change comes as a result of the school system's transition to a new state assessment that's aligned with the rigorous Common Core State Standards.
District of Columbia Public Schools (DCPS) currently uses a "value-added" measure to quantify the impact that a teacher has on student learning, and for the past four years officials have calculated scores for teachers whose students take DC's "state" assessments.
"We firmly believe that student learning is a key indicator of teacher performance – and value-added is one of the best ways to measure that. But we also know that new assessments always bring delays and unexpected complications," said Henderson. "Our teachers want and deserve clarity about when they will receive their final evaluations. So we decided to hold value-added for one year as we work out any potential wrinkles."
Chancellor Honors Graduating Seniors
Henderson hosted a new program recently that she hopes will become an annual event.
"The Scholars Luncheon," held at the Verizon Center in Northwest on June 16, honored 75 outstanding graduating seniors, most of whom will attend college this fall on full scholarships.
"We expect you will prove to the world that the public school system in the nation's capital turns out some of the most amazing people in this world," said Henderson, who referred to the honorees as the school system's best and brightest.
DCPS Reaches Agreements with Union Partners
Roughly 2,400 District public schools employees can expect a salary increase as the result of new agreements reached with three local partnering unions.
A June 18 statement from the school system, the American Federation of State, County & Municipal Employees (AFSCME) Local 2921, Teamsters Local 639 and the Council of School Officers confirmed ratification of the new contracts which run through 2017 and must meet approval of the D.C. Council.
"Our work together with our union partners to provide these new benefits for our staff represent hard work, compromise and a true commitment to supporting these professionals in our schools," Henderson said.
Hats off to a Great School Year!
Henderson took the time on June 19 – the last day of classes – to thank the school community for a successful year.
"This year, our students absolutely killed it," said Henderson, 43. "Whether it was the success on the National Assessment of Educational Progress where [our] students made the greatest gains in the country, or whether it was the Advanced Placement (AP) report showing that the District has more high school graduates who took an AP class during high school than any other state, we had many reasons to be proud," said Henderson. She added that more families are choosing DCPS – which makes her happy and optimistic.