Hill Harper Determined to Help D.C. Youth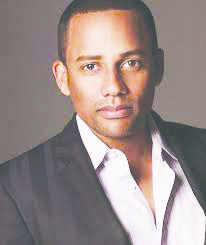 There's more to life than being a Hollywood star.
For Hill Harper, the acclaimed actor who enjoys a lead role in the popular CBS Television series "CSI: NY," the fame and fortune he's earned simply means finding ways to give back, particularly to youth.
"No matter how well I may be doing in Hollywood, if the young brother or sister in D.C. or in Baltimore are not doing well, then I'm not doing very well because we're all interconnected," said Harper, 48.
The actor visited the District earlier this month to announce that he's bringing his "Manifest Your Destiny Foundation" to D.C. for a special program. Harper has committed to working with youth and passing along the lessons he's learned while providing a base for underserved teens to use as a launching pad to academic success.
"The need is so extreme here in D.C. I have a lot of great relationships here, I've met so many young people who could really benefit from this [program] in this area, so I really wanted to bring it here," he said during his visit to the Dance Institute of Washington in Northwest.
Harper and Fabian Barnes, the Dance Institute of Washington's founder and artistic director, said they will kick off the new initiative with a, "Manifest Your Destiny Dancing with the Stars," fundraiser at the Howard Theatre in Northwest on Thursday, September 4.
The fundraiser will include several local participants who will compete in a dance competition to help raise funds for the foundation. Singer Raheem DeVaughn, journalist Roland Martin, Congressional Black Caucus Communications Director Ayofemi Kirby and several others have agreed to shake a leg.
A total of 10 teams will compete, and similar to the popular ABC television show, the contestants will pair up with professional dancers from the Dance Institute of Washington.
"I think this is fantastic," said Barnes, 54, whose accomplishments and accolades include dancing under the direction of famed choreographer Arthur Mitchell and being honored at the White House with the National Arts and Humanities Youth Program Award.
"From time to time, we will get high profile people who will come in. It's a great opportunity for the kids and I think what Hill Harper is doing is fabulous and it's a program that he's already been working on in Los Angeles," Barnes said.
"The kids are very excited about this."
Harper's foundation eventually plans to host a Summer Empowerment Academy for young people in the District. The academy has been designed to address what Harper calls the high school dropout epidemic and foundation officials will offer mentoring and educational support for eighth graders entering the ninth grade from economically challenged neighborhoods.
Students will attend a weeklong, free training course during the summer before their high school freshman year begins. Prior to the start of the training, students, their parents, staff and mentors will meet and establish the rules and expectations.
"We're sincerely grateful that someone of [Harper's] stature cares enough to come here and give of his time and resources so that our children can see that their future can be as bright as they want it to be," said Sheila Morrison, whose daughter, Shante, attends Alice Deal Middle School in Northwest.
Harper said the academy program emerged from ideas, philosophies and strategies that are detailed in books he's written that are aimed at youth, including, "Letters to a Young Brother: Manifest Your Destiny," and, "Letters to a Young Sister: DeFINE your Destiny."
"I didn't want this to be about me, which is why I didn't name it the Hill Harper Foundation," he said. The actor said his books have influenced so many and he wants to capitalize on that momentum by using the academy as a mechanism for interaction between young people and the adults who will serve as mentors.
"These mentors are content experts in a variety of fields that bring knowledge and role model behaviors that will move those who participate in this along a trajectory of success beginning with their ninth grade year," Harper said.