LETTERS TO THE EDITOR: HU Students Reach Out to Community
6/25/2014, 3 p.m.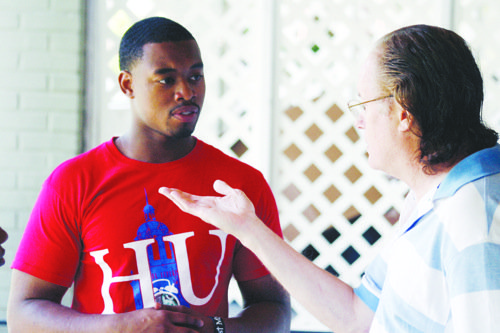 Sam P.K. Collins wrote an enlightening article, "HU Students Connect with Community," published in the June 19-25 edition that should make all of Howard University's students — particularly those who live on and near the campus — stop and think.
For as long as I can remember, HU has always been at the forefront helping to deliver a variety of quality programs and services to the community.
The school, which sits in the heart of my Northwest enclave of older homes and aging residents, has also been recognized over the past year as No. 1 among HBCUs for the number of alumni engaged in volunteer efforts. And, for that both current students and alumni should be proud.
However, as the article pointed out, there are times when students housed in apartments and houses in close proximity to the homes of longtime residents, have been reported for loud music, rowdy parties and other disturbances. People have the right to expect to live peacefully in their neighborhoods and they should report any student who ignores that right.
I'm just happy that some of the students took the time to consider their neighbors and their quality of life. In doing so, they have taken community service a step further with an interactive campaign that takes them door-to-door canvassing neighborhoods near Howard to hear residents' concerns and how students can help solve them.
What a wonderful way to bridge the HU campus family and the community and make everyone feel more comfortable.
Elnora Roberts
Washington, D.C.
Students Show Compassion for Others
We are always reading articles and seeing television stories about all sorts of people coming into our communities to help those who are in need, but very seldom do we have the chance to read or see our young African-American folks doing the same in other communities.
That's why when I read Barrington Salmon's article, "New Orleans Students Donate Time, Resources to Philippines" in the June 19, 2014 paper I just had to write this letter. Our young people are always being portrayed as being so negative and selfish, but this article proves that given the opportunity they can be just as giving and caring as any other group of young people.
We hear the phrase "Giving Back" used all the time by individuals who have made lots of money, or those who have become successful at what they do, but you don't have to have a lot of money or be successful to give back. We can all give back to each other. We can impart kind words to someone we meet on the street, or that person sitting next to you on the bus. We can give back at our churches, at our schools and even at our jobs. The important thing is to give something back to those in need. The Washington Informer always sheds light on those subjects the other media outlets seem to want us to forget about, so I'm glad to see this topic covered in your paper.
Regina Logan
Washington, D.C.
Congratulations for 50 Years!
As far as I am concerned, The Washington Informer Newspaper is the best source of information in the Washington area. As an avid reader of your paper, there's not a week that goes by that I am not completely rejuvenated mentally and spiritually by your stories. News doesn't always have to be negative, especially in our community, and your paper continually brings that good news to us.
As you celebrate your 50th year of publishing The Washington Informer, I would like to thank you for all that you have given to us – all that good news! I hope and I pray that your paper is around for many, many more years to come so that all of our grandchildren and great grandchildren of this city will have the opportunity to read positive stories about themselves and their hometown.
Randy Miller
Washington, D.C.