Norton Fights D.C. Pot Decriminalization Amendment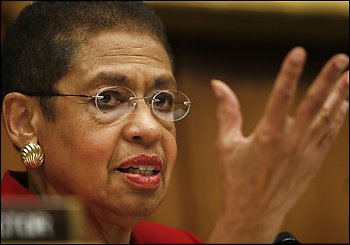 D.C. Delegate Eleanor Holmes Norton (D) is fighting to stop an amendment to a House appropriation bill that would block the District from decriminalizing marijuana.
The amendment, sponsored by Rep. Andy Harris (R-Md.), successfully passed the House Appropriation Committee on Wednesday and is set to be considered by the House of Representatives in the near future.
Norton criticized the action of her GOP colleagues as hypocritical and self-serving.
"The vote by the Republican-led committee violated the central tenants of the Republican Party-limiting the power of the federal government and devolving that power to local governments," she said. "Representative Harris, a Tea Party supporter, threw his local control principles to the wind. Representative Harris, whose state recently decriminalized marijuana, appears to be following in the most exploitative tradition of some Republicans who try to use D.C. to establish their conservative bona fides and raise their national profiles by interfering in the District's local affairs."
Norton said that she will consult with the D.C. Home Rule Coalition to get the amendment removed from the appropriation bill. The coalition consists of 41 national and local advocacy groups that support District statehood and the right of the city to legislate its own affairs without the interference of Congress.