Principal Turnovers Reflect Poorly on Schools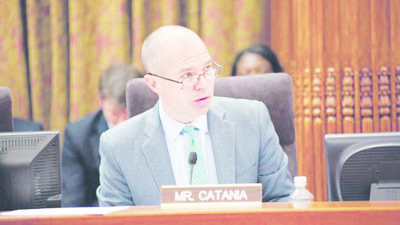 The plan calls for jump-starting the 2014-15 school year with not just the best teachers, but also with the best principals.
However, there will likely be a repeat cycle of leadership instability within the District of Columbia Public Schools (DCPS) system, which has been rocked by the terminations of at least eight veteran principals and several of their colleagues who've been shuffled around. Others tipping their hats this summer, include Rory Pullens, the highly-regarded principal of the Duke Ellington School of the Arts in Northwest, who resigned for a post in California, and Patrick Pope, who recently announced his retirement after transforming Savoy Elementary in Southeast into one of the nation's top arts and music schools.
"I'm very concerned about the turnover of principals," said Mark Jones, who represents Ward 5 on the D.C. Board of Education. "I'm a firm believer that consistency and having a stable workforce of teachers and principals makes a big difference in the lives of our children," said Jones, 54, who added that while some parents requested certain terminations, other parents and students believed their principals had done an exemplary job.
"I understand that at the end of the day, it's the call of the public schools system officials, but we've just got to make a concerted effort to ensure the rights of both our principals and teachers the first time around."
Jones said principal turnovers have been ongoing since 2007 when Michelle Rhee took over as chancellor. During her three-year tenure, Rhee fired 36 principals and closed 23 schools in just one year.
According to a 2012 Rand Corporation report that focused on principal firings, in many instances the schools took a nosedive after the principals left.

However, in the case of DCPS, principals will have an opportunity to keep their jobs based on their performance evaluations.
School spokesperson Melissa Salmanowitz explained that unlike teachers whose performances next year will be gauged in accordance with a new state assessment called the "Partnership for Assessment of Readiness for College Careers," the principals will be evaluated on existing measures.

"It could be a number of different assessments that will be used for accountability purposes," Salmanowitz said.
Meanwhile, since assuming the helm, Henderson has continued to raise the ire of parents and community leaders throughout the District with her decision in January 2013 to close 15 so-called low-performing or under-enrolled schools – most of which served students in wards 5, 7 and 8.
At the end of school year 2012-13, Henderson continued to exert an iron-fist school reformation initiative that gave the boot to 20 percent of the school system's principals.
That round of ousters, although lower than in previous years, outweighs the number reported for neighboring school systems.
D.C. Council member David Catania (I-At Large), chair of the council's Committee on Education, has criticized Henderson for the manner in which she's approached school reform.
A candidate for the November mayoral election – Catania wants school officials to develop an evaluation system for principals that also enables them to rate their supervisors without fear of reprisal – has given no indication whether he'll keep Henderson if he wins.