Holder Takes on Wisconsin Voter ID Law
WI Web Staff | 6/26/2014, 4:28 p.m.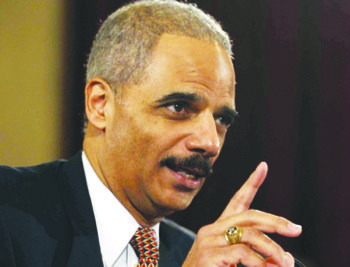 U.S. Attorney General Eric Holder said he will not keep an anti-voting rights decision made by the Supreme Court last year prevent him making sure that all Americans have fair access to the ballot box.
Holder said Wednesday he would remain aggressive in using Section 2 of the Voting Rights Act of 1965, which wasn't struck down by the high court, to fight unjust voting restrictions.
Section 2 prohibits barriers to voting that disadvantage minorities and that is his grounds for fighting the controversial Wisconsin voter identification law.
"The Wisconsin law erected significant barriers to equal access without serving any legitimate government interest," Holder said.
The Wisconsin law states that a resident must provide one of nine types of photo identification in order to cast a ballot. Opponents of the law, which includes civil rights groups, say that the law is unnecessary because purchasing an identification puts a financial burden on people of color, the elderly and the indigent of any race and that Wisconsin does not have a documented history of racial discrimination at the polls that would justify the attention of the U.S. Department of Justice.
The U.S. Department of Justice has filed lawsuit against the states of North Carolina and Texas for their discriminatory voting laws based on Section 2.
Holder hinted that Wisconsin's voter identification law has a political purpose in mind. Nevertheless, he made it clear that he will enforce the law.
"It's clear that discriminatory voting laws, rules, and regulations are not confined to any particular region," the attorney general said. "And thanks to Section 2 of the Voting Rights Act, neither are our enforcement efforts."