Treasury Secretary Jacob Lew Visits GWUL
6/26/2014, 4:50 p.m.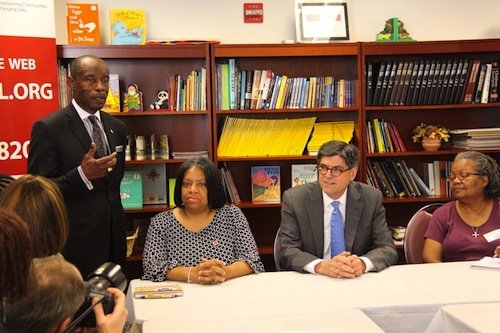 The Greater Washington Urban League (GWUL) hosted Thursday Treasury Secretary Jacob J. Lew to meet with D.C. homeowners and GWUL housing counselors.
Lew gave closing remarks at the Making Home Affordable Fifth Anniversary Summit, in D.C. that brought together key stakeholders from across the country to discuss best practices in the MHA program.
Lew announced at the summit that the MHA program would be extended for at least one year or until Dec. 31, 2016.
"A home is one of the most important investments a family ever makes," Lew said. "Earlier today, I met with homeowners and housing counselors at the Greater Washington Urban League and discussed with them how our programs are helping Americans get back on their feet.
"And they were clear: While our programs are, indeed, having a real impact, very important challenges remain. These homeowners, like many others, remain optimistic but continue to worry about what the future will bring for themselves and their neighbors. The truth is, when you work hard, act responsibly, and play by the rules, you should not have to live in fear that you are going to lose your home."
The GWUL provided an audience of diverse individuals who held an intimate conversation with Lew. These GWUL clients provided him insight into the challenges and successes of purchasing a home, which included dealing with banks and loan servicers while noting their pride in homeownership. One common thread that was mentioned by each participant was the need to streamline and simplify the home loan modification process for homeowners fighting to avoid foreclosure.
GWUL President and CEO George H. Lambert Jr. thanked Lew for visiting the League to learn more about the work done in support of affordable housing.
"Our staff and counselors work diligently with hundreds of clients in the District and suburban Maryland every year to help them stay in their homes when they have encountered economic hardships that put their mortgages in danger," Lambert said. "More help is needed from the federal government and we are glad to see that Secretary Lew is extending the MHA program."