Local Legend, Broadway Star and Ellington Student Honored at 'Phantom'-Themed Gala
Coalition for African Americans in the Performing Arts | 6/27/2014, 10 a.m.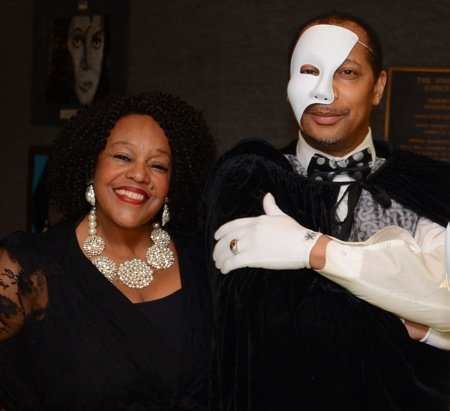 A "Phantom of the Opera"-costumed gentleman greeted guests Thursday at Harmony Hall Regional Center John Addison Concert Hall in Fort Washington, Md., setting the tone for "Phantom"-themed gala sponsored by the Coalition for African Americans in the Performing Arts (CAAPA), a D.C.-area non-profit arts organization.
When the organizers found out that New York's Great White Way has recently featured its first African-American in the long-running hit "Phantom of the Opera", the decision to incorporate the Phantom theme into their Gala was an easy one. In support of the CAAPA mission to "Bring color to the classics!" by supporting African-American classical musicians and others in the performing arts, they were delighted and wanted to pay homage when the pivotal moment in music history was made.
A call went out to "Scandal" actor Norm Lewis to invite him to attend and receive an award for his accomplishment. He was unavailable but honored, sending a congratulatory thank-you letter heard by attendees.
Enthusiastically embracing the "Phantom" theme, Pamela Simonson, the organization's co-founder and chairman of the board, saw the original Andrew Lloyd Weber hit on Broadway three times and plans to see this production. A die-hard "Scandal" fan, she is also thrilled to know Lewis' name is now associated with the Tony Award-winning show.
The decade-old organization did not stop there. They also honored a revered musical legend by awarding the CAAPA Arts Award to the district's beloved Joyce Garrett, founder of the Washington Youth Choir. Garrett also serves as the Minister of Music and Arts at Alfred Street Baptist Church in Alexandria, VA. Humbled by the recognition given her by a local African-American arts organization, Garrett had also recently been recipient of an award at the Hampton Minister's Conference.
One of the highlights of the enchanting evening was a musical performance by recent Washington National Opera star Solomon Howard ("The Magic Flute"). Howard did not sing anything from "Phantom," but his rich voice mesmerized the audience with opera arias, moving Negro spirituals and a selection made famous by the role by Paul Roberson, "Old Man River".
Another highlight of the evening was the annual award given to an outstanding graduating high music student, Joshua Jenkins who was selected after a juried "Student Showcase" was held to determine who should garner the high award. Students from area schools including Suitland High School, Bowie High School, Oxon Hill High School and Duke Ellington School for the Arts participated by applying for a CAAPA music scholarship and performing instruments including violin, viola, percussion, French horn, voice and piano. While all of the students will receive an award, Jenkins also performed for nearly 150 guests at the Gala, in addition to serving as music director and pianist for an Ellington ensemble that performed during the VIP Pre-Reception.
Attendees saw videoed messages from famed mezzo soprano Denyce Graves and Motown's music director Joseph Joubert who lent their names to support CAAPA and serve as the evening's Honorary Gala co-chairpersons along with Prince George's County Councilman Obie Patterson, arts supporter Hattie Scott, Executive Director of the Prince George's Arts and Humanities Council Rhonda Dallas and arts advocate June White-Dillard, Esq. who served on the Gala's Honorary Host Committee.
The star-studded evening ended with supporters reentering a transformed reception area to Pharrell Williams' award-winning "Happy," where they danced, ate slices of a specially "Phantom"-themed designed cake and partied.
CAAPA is a 501c3 organization that provides community outreach, arts education, audience development, performance opportunities and arts partnerships. Ticket purchases or tax-deductible donations may be made on the website, by telephone at 301-839-1444 or by mailing CAAPA, P.O. Box 44954, Fort Washington, MD 20744.