Ben's Chili Bowl Set for Va. Grand Opening; Bill Cosby to Help Celebrate
3/1/2014, noon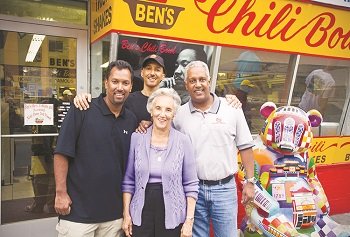 Ben's Chili Bowl, the iconic D.C. restaurant patronized by luminaries ranging from Martin Luther King Jr. and Ella Fitzgerald to Bill Cosby and President Barack Obama, will open the doors Thursday to its new location in Northern Virginia, its first new stand-alone site in more than 55 years.
A ribbon-cutting ceremony is scheduled for 10:30 a.m. on March 6 at 1725 Wilson Boulevard in Rosslyn, the former location of Ray's Hell Burger. Cosby, a longtime supporter and friend of the Ali family that owns the franchise, is expected to attend.
"Rosslyn is an up-and-coming hot spot in the D.C. area, which makes it the perfect home for Ben's Chili Bowl — a hot spot on its own," said Mary-Claire Burick, president of Rosslyn Business Improvement District. "Our neighborhood continues to grow more vibrant and we think Ben's is the perfect addition to our community."
The Ali family says it is eager to continue to build upon the franchise's rich history of community service at the new location.
"We're excited to welcome Ben's Chili Bowl to Arlington," said Jay Fisette, chair of the Arlington County Board. "Residents and visitors to the nation's capitol have enjoyed this iconic landmark for more than a half-century, and we couldn't be happier that Ben's has chosen Arlington as its first expansion outside D.C."
Visitors and newcomers to Washington have usually heard about Ben's long before their arrival, including President Obama, who famously stopped by in 2009 for a chili half-smoke. Ben's has been seen on "Man vs. Food," "Oprah," Anthony Bourdain's "No Reservations," "Good Morning America," "The Daily Show," and countless other shows, movies and TV networks. Pop culture icons including Chris Rock, Usher, Bono, Tyrese, Nick Cannon, Chris Tucker, Sarah Jessica Parker, Serena Williams and others have also been seen on recent visits.
In addition to being known as the place in D.C. where everyday people brush shoulders with celebrities, Ben's Chili Bowl has also been honored to receive numerous awards and accolades, including the prestigious "America's Classics" award from the James Beard Foundation. In 2008, late founder Ben Ali and his wife, Virginia, were given the key to the city by then-Mayor Adrian Fenty, and in 2009 Ben's was honored by the Restaurant Association of Metropolitan Washington.
In 2010, the George Washington University enshrined Ben's Chili Bowl's historic papers, documents and photos into its main Gelman Library, and all documents have been digitized for students and scholars throughout the world to examine. And in 2013, Ben's won the Steve Harvey Golden Spatula Award for Best Chili in America.