COMMENTARY: Rejoice! Major League Baseball is Back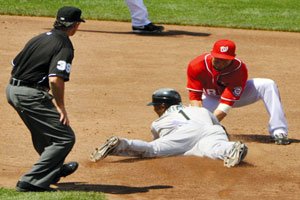 It's one of the sweetest sounds in all of sports. This weekend, it was heard all over South Florida and Arizona. Fans flocked by the tens of thousands to get an earful. Because it's been absent for several months, a warm and fuzzy feeling arises when the buzz in the stadium is pierced by this magical tone.
Oh well, if you haven't figured it out by now, I'm talking about the sound of a wooden baseball bat connecting with a baseball traveling about 90 miles per hour.
On Friday, the Major League Baseball exhibition season began. That makes me happy on so many levels. Not only did it symbolize that spring is right around the corner, but it also means the return of the national pastime.
Sure, baseball has had its fair share of controversy in recent times, most notably the steroid scandal near the turn of the century. Mark McGwire, Sammy Sosa and Barry Bonds were driving pitches into the neighboring state, as routine fly balls would turn into monster 500-foot home runs. Of course, after several investigations and a Congressional hearing, we learned that they were likely guilty of using performance enhancing drugs (PEDs).
Though McGwire was the only one of the three who fully (if not immediately) copped to steroid use, Sosa is responsible for the on-the-field low point among the Three Stooges when he was caught using a corked bat in 2003. Since then, there have been several other players that have been suspended for using PEDs, such as Melky Cabrera, Ryan Braun and, most recently, the infamous Alex Rodriguez.
But through it all, baseball with its rich tradition and storied past has developed the resilience to keep pressing forward. Today, baseball is as strong and popular as ever. And though baseball has not managed to escape the PED era unscathed, you get the sense that PEDs in baseball will soon be a thing of the past.
Why? Because baseball connects with its fan base like no other major sport does. Pro basketball promotes grace and athleticism, pro football markets physical violence and high-speed collisions, and pro hockey sells fighting. As the old joke goes, "I went to a fight and a hockey game broke out."
Meanwhile, baseball constantly reminds you of its history. For decades, we've been fed names such as Jackie Robinson, Hank Aaron, Babe Ruth, Willie Mays and Lou Gehrig. Hearing these names not only take us back in time, but they take us to a simpler time. A time when attending a baseball game meant sitting outdoors, instead of in a domed stadium. An era when grabbing a bite at the game conjured up thoughts of a hot dog and a beer, not chicken cordon bleu chased by a glass of chardonnay. There were no laptops, satellite radio or instant score updates. It was all about the baseball game itself — pure, simple, clean.


Today's baseball is much more specialized with setup relievers, closers and situational substitutions. However, it's baseball, nonetheless, and I can't wait for it to get underway (not to mention some warmer weather after one of the harshest winters we've had in a long time).
I can't help but be excited for the hometown Washington Nationals. I believe they can get back to their 2012 form, a season in which they were one game away from the World Series. The Nats have Bryce Harper, one of the best all-around players in the league and Gio Gonzalez, who's amongst the best southpaw starters in all of baseball. The wild card in the Nationals' 2014 equation may well be new skipper Matt Williams, who replaces former Nats skipper Davey Johnson. The players will have to adjust to him and vice versa. The Nationals have several solid veterans on their squad, so I don't expect the adjustment period to take very long.
We are standing on the brink of baseball, warmer weather and the freshness of spring. Thus, I'm excited! If you're not fired up about the return of baseball, don't worry, I have enough enthusiasm to share with you and a small army. I can't wait for opening day. At this point, I'm just waiting for the home plate umpire to yell that customary phrase: "Play ball!"