D.C. Blanketed Again By Heavy Snowfall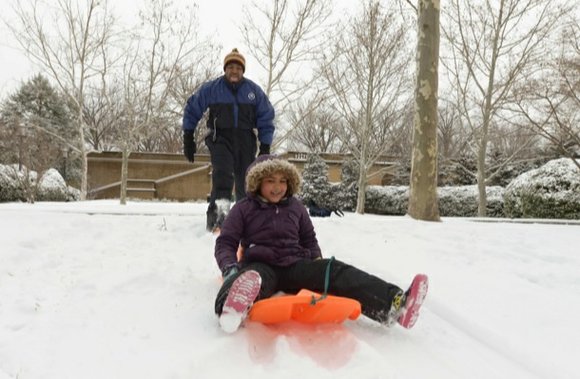 "Every time there is a storm, the stores are jammed with folks trying to get supplies. This time I was the one out of luck because I couldn't find any salt or a shovel that I can use," said Knight, 66.
Knight's neighbor, Samantha Connolly, said she also couldn't locate some of the necessary supplies to help dig out from the storm. However, Connolly said she did stock up on groceries at the Safeway Store on 4th Street in Southwest.
"I got the items that I need just in case we can't leave the house," said Connolly, 49.
"I didn't see a lot of bread and water left, but I got a couple of loaves and we already had some water in the house, so that wasn't too big a deal for me this time."
The fact that Connolly and others stocked up on goods wasn't such a bad idea this time, weather service officials said.
Sosnowski said the storm had the potential to bring up to a foot of snow with some areas susceptible to higher amounts.
He said, because sleet and a thin layer of freezing rain preceded the snow, many would find it too difficult to shovel.
"Monday could [have] become one of the top five snowiest March days in the history of Washington, D.C.," Sosnowski said.
The snowiest March day on record occurred on March 29, 1942, when 11.5 inches fell.
"Such intense snowfall can overwhelm shoveling and plowing operations, as well as strand motorists," he said.
Many area residents repeatedly expressed exasperation over the harsh winter conditions that continue to plague the District and most of the country.
"We're tired of it. We're sick of it," Martin Peace, a web developer from Arlington, Va., told the Associated Press.
Peace and his wife were walking on the National Mall with their young daughter on Sunday just before the frigid weather blew in. Both bemoaned the number of snowy days this year and bristled at reports that more snow could come later this week.
Forecasters at the National Weather Service said while temperatures should rise to about 38 degrees on Thursday, cloudy skies should give way to light snowfall in the afternoon.
That could be followed by some rain on Friday before a welcome warmup on Saturday.
"It's been hard with a baby being stuck in the house," said Nicole Peace, who works in human resources. "We don't really get the day off, but then we have to work from home with the baby, which is hard."