D.C. School Boundary Changes Long Overdue, Officials Say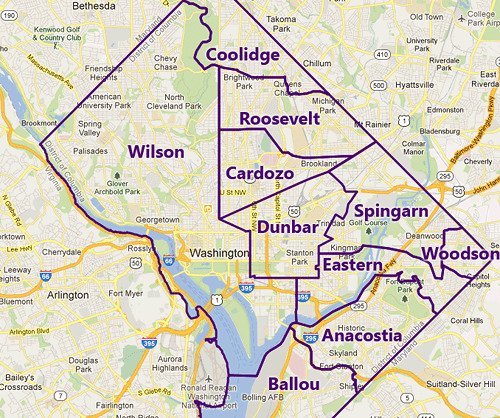 It's been nearly 40 years since school boundary lines and feeder patterns in the District have been drawn.
And while school officials admit that the larger, more complex issues of race and class must first be addressed, they also contend that redrawing boundaries and feeder patterns are necessary and long overdue.
Deputy Mayor for Education Abigail Smith, whose office is spearheading the changes, called the system "pretty convoluted."
"It's been a very long time since boundaries have been redrawn in a comprehensive way in the District. The last time it was done was in 1968, so we definitely have a lot of changes" in store, Smith said during a recent town hall meeting.
Although much has changed over the years within the public schools' infrastructure — including closed and newly-revamped buildings and the merger of low-performing facilities with high-performing charters — the boundary plans set to take place by the 2015-16 academic year have generated a moderate amount of anxiety among parents.
"I'm very concerned," said Arlene Marcus, 41, a single mother of three children. "We live in Ward 5 and two of my children are at Eastern [Senior High School] when they would have been at Spingarn [Senior High School]. Phelps [Architecture, Construction and Engineering High School], which is also our community, wasn't really an option, so my children are actually out of boundary. If the lines are redrawn and they get reassigned [in Southeast] at Ballou or Anacostia — I wouldn't be too happy."
Inversely, parents of children who attend lower-ranked schools view the coming changes as an opportunity for them to attend high-quality schools in more diverse areas of the city.
At the same time, they fear redrawn lines could limit access to some of the best-performing schools such as Alice Deal Middle and Woodrow Wilson Senior High in Ward 3, which are currently at capacity.
The 20-member task force working with Smith's office on the project is set to present a final plan in September to Mayor Vincent Gray. To ensure that the public has ample opportunities for input, several working sessions under direction of the task force are slated to begin this month.