Fairfax Co.'s Catherine Hudgins To Be Honored by Transportation Organization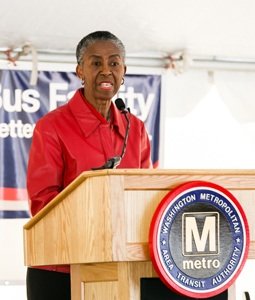 Catherine M. Hudgins, a member of the board of supervisors in Fairfax County, Va., will be among several women honored at an awards breakfast sponsored by the Conference of Minority Transportation Officials (COMTO).
The ceremony will be held March 12 at the J.W. Marriott Hotel in Northwest D.C., in recognition of Women's History Month.
Hudgins, who is being recognized for her work in public transportation, was first elected to the state's board of supervisors in 1999. She represents the Hunter Mill district, one of the county's largest magisterial districts. The area includes Reston, Va., and parts of Herndon and Oak Hill.
Hudgins, who serves on Metro's board of directors, chaired the board from 2011 to 2013. She was also chair of the Northern Virginia Transportation Commission in 2010. She is currently a member of National Capital Region Transportation Planning Board, which she chaired in 2007.

The award marks the second time Hudgins has been honored for her transportation work. In 2010, she received the Public Official of the Year award from the Virginia Transit Association for her work in the region and advocacy of public transportation.
Other honorees will be recognized for their achievements in several other categories, including industry, academia, advocacy, labor, aviation, and state government. Among the awardees is Congresswoman Eddie Bernice Johnson (D-Texas), a member of the Congressional Black Caucus.
COMTO, founded in 1971 at Howard University, provides a forum for senior-level minority professionals in the transportation industry. The organization aims to ensure a level playing field and maximum participation of minorities, businesses, and communities of color in the transportation industry.