Michelle Obama Visits D.C. Charter School Ahead of China Trip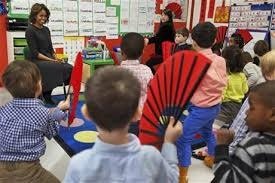 To prepare for her first trip later this month to China, first lady Michelle Obama on Tuesday visited Yu Ying Public Charter School in Northeast D.C., where she sought advice from a group of 6th-graders who traveled there last year.
Students at the Mandarin Chinese-immersion elementary school learn about the country's language, history and culture as part of their studies. The school, which offers grades pre-kindergarten through six, is one of few programs in the nation.
"I'm delighted to be here. I don't know if you've heard, but I'm going to take a trip in a couple of weeks to China, and I heard that you all took a very similar trip," Obama told the students. "I have all of these wonderful policy people that help me prep, but I figured, since you actually visited some of the cities that I'm going to go to, that I would get a good sense of what to expect, what you learned, what you liked, what you didn't like, [and] some of the questions you think I should ask and be prepared for."
The students eagerly obliged by teaching her how to say "hello," "bye" and "thank you" in Chinese and offering tips on how to deal with jet lag.
In addition to cautioning the first lady about the "super different" toilets in China, the students also advised to be ready for people gawking at her.
Obama will be away March 19-26 with her daughters, Malia and Sasha, and her mother, Marian Robinson, where their education-themed trip will include stops in Beijing, Xian and Chengdu.
The first lady will be posting a daily blog and photos, sharing with U.S. students stories of their peers that she meets in China.
"One of the things that I want to learn from young people in China is what works for them, what keeps them motivated to keep working hard [and] studying hard in school," she said.
She encouraged students across the country to follow her China trip by signing up for updates at whitehouse.gov.
"I also want to take kids from America with me on those trips. If they can't do it physically, I want them to be following what I do," she said.