Deficit Looms Over P.G. County Budget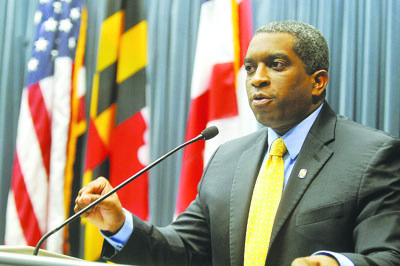 Officials in Prince George's County are warning residents and elected leaders that the county is facing another $100 million budget deficit as the county executive prepares to deliver his budget proposal to the county council later this month.
During a town hall meeting to discuss the fiscal year 2015 budget at Largo High School on Feb. 25, officials told the Prince George's County Council and a crowd of residents that the county was staring at another year of budget shortfalls – projected to be $115 million.
"We all have difficult choices to make," said Thomas Himler, the county's deputy chief administrative officer for budget, finance and administration. "We have to balance our expectations with our resources."
Prince George's County officials have started their annual budget process with a deadline of June 1 to adopt next year's budget, which is projected to be about $2.9 billion. County Executive Rushern L. Baker III and members of the Prince George's County Council have been holding a series of town hall meetings to discuss the fiscal outlook.
This year's budget comes at a time when the county has been maneuvering to position itself as an economic engine for the region. Baker hopes to revamp the county's image to attract more businesses and affluent residents.
Officials point to a nearly billion-dollar casino set to arrive at National Harbor by 2016 and a proposed $645 million regional medical center that would modernize the county's medical system and help revitalize the Boulevard at the Capital Centre in Largo, as evidence progress is being made. County officials have also been campaigning to lure the FBI headquarters from Northwest D.C. to land adjacent to the Greenbelt Metro Station.
"The process of transforming Prince George's County into a destination for the world begins with an open and participatory budget process," said Mel Franklin, chair of the Prince George's County Council, during the meeting.
But harsh realities continue to loom. Himler told the crowd that the county has had a structural deficit of $40 million to $50 million since 2008 due to an imbalance of revenues compared to expenditures. The county is overwhelming depended on property and income tax revenues, which are still recovering from the 2008 recession.
"We've been essentially flat since 2008," he said. "While we are optimistic about the future, there are challenges that still remain." He added that expenses for the county increase at about $90 million annually.
Next year's budget is projected to be 2.78 percent more than the 2014 fiscal year budget, which was $2.7 billion. David Van Dyke, who heads Prince George's Office of Audits and Investigations, said revenues for the county have been slow to rebound in recent years. Prior to 2008, the budget grew at a rate of about 8.5 percent annually and as low .4 percent in the years following the recession.
But the fiscal outlook did little to quell residents and county workers from petitioning council members to avoid budget cuts in certain areas of the county government.
Members of volunteer fire departments in Prince George's County pressed officials to ensure that $1.5 million remains in the budget for Fire/EMS services.
"We need your help to ensure that that volunteer operating funding is strengthened," said Pete Mellits, assistant chief of the Bowie Volunteer Fire Department. "There's a $1.5 million shortfall for expenses."
Harvey Woods, a former firefighter with Prince George's County Fire/EMS, warned against cuts if it meant fewer fire engines and other resources for volunteer firefighters.
"We live in tough times – we understand that," he said. "This county is still growing. Shrinking the number of vehicles that respond to emergency calls is not the right direction."
Comments made during the town hall meeting will be taken into consideration when Baker officially proposes the budget to the county council by Saturday, March 15.
For more Prince George's County/Maryland news, follow @JoshuaGarnerDC on Twitter.