EDITORIAL: D.C. Mayor's Race Shaping Up to Be a Dogfight
3/5/2014, 3 p.m.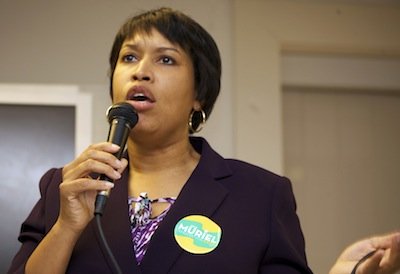 For handicappers and political pundits, the mayor's race just got a little more interesting, if a recent NBC4/WAMU/Washington Informer/Marist poll is any indication.
Mayor Vincent C. Gray is in the lead with 28 percent of likely voters giving him the nod but Ward 4 Council member Muriel Bowser is a close second with 20 percent. Bowser has moved to the forefront of a race that should be Gray's to lose but which is proving to be unpredictable and more nuanced than expected.
Gray has the power, perks and privilege of incumbency, citywide name recognition, a strong record and a crowded field at his advantage, but he continues to be dogged by a 2010 campaign finance scandal, that although he insists he had no involvement in, has turned Democratic and likely Democratic voters against him.
Fifty-six percent of Democratic voters and 55 percent of registered voters approve of Gray, but what should be worrisome for the city's chief executive is that 53 percent of Democrats say they are less likely to vote for Gray because of the campaign investigation.
Only 31 percent of Democrats say Gray deserves to be re-elected, while 63 think it's time for someone else. And 44 percent of Democrats say they will definitely vote for him, while 41 percent definitely plan to vote against him.
The poll also found that 46 percent of Democratic voters say they think Gray was involved in unethical – but not illegal – actions, and 24 percent of them believe he was involved in some type of illegal action. Fifteen percent believed he did nothing wrong, and an additional 15 percent of Democrats are unsure.
Bowser may be able to capitalize on voter disaffection and beat Gray but there are any number of variables that could still tilt the scales in Gray's favor.
What's particularly telling leading up to the April 1 primary is that none of the eight candidates have stirred ripples of excitement among voters and there's no compelling issue around which candidates have been able to coalesce. With 74 percent of voters saying the city is moving in the right direction, the campaign scandal bugaboo is the main predictor of voter sentiment.
Bowser stands most to benefit from voters in search of a viable alternative to Gray because of campaign cash, a robust organization and broader support among blacks and whites than any other candidate. And her father Joseph's influence, connections and network after serving as the city's longest-serving Advisory Neighborhood Commission shouldn't be discounted either.
Bowser has won two straw votes and her campaign appears to have that edge in advance of early voting on March 17, but nothing's a sure thing until all the votes are counted.
As expected the poll reflects divisions among racial lines with Gray only garnering 10 percent of white votes versus 41 percent among African-American voters. Ward 2 Council member Jack Evans and Ward 6's Tommy Wells have only been able to attract support in the single digits among black voters, while splitting the white vote with more than 20 percent each. Bowser has the support of 18 percent of white voters and 23 percent of black voters.
In the end, the campaign will likely turn on who raises the most money, who can excite and turn out the highest amount of voters and organization.
If Bowser remains the frontrunner, she can expect to be attacked and sniped at from all sides but if she convinces people she is a credible alternative, then she could score an upset. But no one should sleep on Gray who has most of the tools any candidate would need to snatch victory on April 1.