Gray, City Officials Announce New Project at St. Elizabeths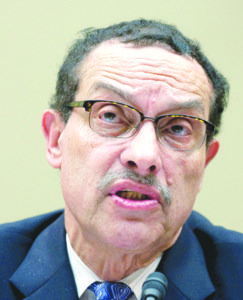 Mayor Vincent C. Gray and other city officials are banking on the $5 million St. Elizabeths East Gateway Pavilion providing an economic foundation that will transform the fortunes of Ward 8.
Scores of city officials and other employees were on hand at the mayor's weekly press conference at the St. Elizabeths' East Chapel which Gray said is being transformed into a demonstration center. The RISE Demonstration Center will bridge the gap between a proposed innovation hub and the local community until permanent hub space is developed.
"This is an exciting time for Ward 8," said Rosalynn Hughey, interim director of the D.C. Office of Planning. "Through dialogue, we're bringing tangible, physical improvements into the neighborhood. This means skills development, job training and economic development. We're capitalizing on the great talent that resides here."
Hughey said transportation improvements, two gateways and the Circulator are examples of the benefits brought to or coming to Ward 8, and she said the Demonstration Center represents another piece of an ambitious overall plan to lift the ward. She said city officials had had discussions with residents who detailed the improvements they want in their communities, including business district beautification and investment corridors.
The chapel will house a digital inclusion center with a stateof-the-art computer lab that will offer residents computer training, small business support programs, job training and entrepreneurship and tech seminars. It will also offer flexible creative spaces, demonstration spaces, one-on-one meeting areas, upgraded facilities and a kitchen area.
"We are in essence reintroducing St. E's to the community," said Victor Hoskins, deputy mayor for planning and economic development.
During the question-and-answer section, Hoskins said that the city has decided to find another contractor to run the project. He said city officials didn't feel that they were getting the "bang for the buck" from Brown & Fried LLC, which was paid more $288,000 to manage the pavilion.
The Gateway pavilion, along Martin Luther King Avenue S.E. in Congress Heights, is a multipurpose building with community space, a performance area, an outdoor recreation area, a space for dining, a farmer's market and space for after-hours and weekend activities, including arts and cultural events.
The $8.3 million pavilion is a 16,300 square-foot open-air market and pavilion that will provide space for more than 40 vendors and as many as 10 food trucks curbside on the east portion of the campus. It also has a 3,100 square-foot flex conference and café area, which was added at the request of community leaders. The conference and café areas will be for pop-up retailers and café food vendors.
The second level is a rooftop amphitheater that can hold up to 1,000 people and be used for concerts, dramatic performances and other outdoor activities. The pavilion offers an area with a free Wi-Fi hotspot.
The structure took about four months to build, with Ward 7 and 8 residents and businesses participating in its construction.
The pavilion is designed to serve more than 4,000 employees who'll be working at the new Coast Guard headquarters located at the St. Elizabeths West campus. The multi-purpose outdoor structure serves District residents, visitors, small businesses and federal employees. It is the first of several facilities for federal employees who'll be based at the Coast Guard headquarters.