Gray Continues to Support Embattled Fire Chief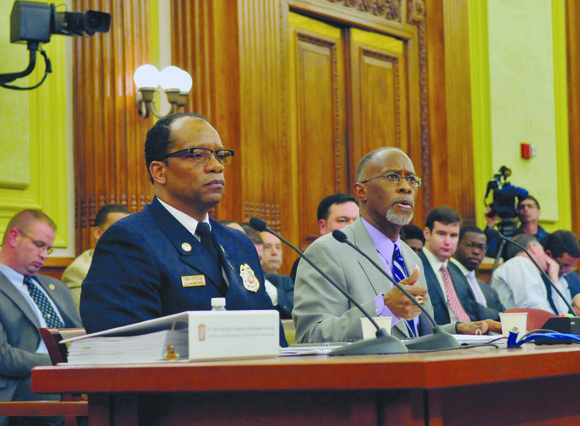 Despite strident calls by Ward 6 Council member Tommy Wells for the heads of Paul A. Quander Jr. and Kenneth B. Ellerbe, Mayor Vincent C. Gray (D) said that's not happening.
"I think it's a ridiculous political trick," said Gray at the Feb. 26 press conference at St. Elizabeths East Campus. "Paul Quander has done an outstanding job in public safety that speaks for itself. I'll be glad when April 1 comes and goes so that we can achieve some sanity. The further down (in the polls) people go, the more desperate they are."
Wells is one of eight politicos vying for Gray's job in an election that takes place on April 1.
Gray offered similar support to Ellerbe, who became fire chief in 2011.
"I've been clear about the fire chief. I support him. This is not the time to change course," said Gray. "The problems we're seeing probably predate Chief Ellerbe. It's more than one fire chief."
Wells, 56, chairs the D.C. Council's Public Safety and Judiciary Committee, held a hearing last week where he castigated Gray, Quander, Deputy Mayor of Public Safety and Ellerbe, chief of the D.C. Fire and Emergency Medical Services.
He said he's deeply dissatisfied and gravely concerned about the city and fire department's handling of the case of Medric Cecil Mills Jr.
Mills, 77, a longtime D.C. resident, collapsed in the parking lot of the Brentwood Shopping Center on Rhode Island Avenue, N.E., and later died of a heart attack. On the afternoon of January 25, witnesses say that firefighters ignored the pleas of passersby who went seeking help. Mills and his daughter Marie were out running errands.
"I assumed it was just a perfect storm of errors. It never crossed my mind that it was this type of situation. I've lost confidence in them. I want them to clean house," said Wells, who is running to replace Gray. "I chaired an oversight hearing to give the Gray administration a chance to explain what happened in the Cecil Mills case – in which five firefighters failed to respond to a personal plea for help at the firehouse door. Specifically, I wanted to hear the mayor's plan to fix the situation so it will never happen again. The administration's response was deficient and disappointing. Our city deserves better."
Wells said he is not at all pleased that city officials presented no plan or even the apparent capacity to rectify the failings of the fire department, and restore public confidence in reliable emergency response. He also said it's unconscionable that Quander and Ellerbe continue to blame the rank-and-file for departmental failures instead of shouldering the responsibility themselves.
Wells said he, like much of the public, is at a loss as to how the Mills case happened and noted Ellerbe's solution of sending a memo to all the fire stations to tell employees to follow the rules is laughable. He said he's lost confidence because of all the missteps and problems.
Gray, 71, disputes Wells' assertions, saying that the report from an internal investigation offers a detailed series of recommendations that Ellerbe and his command staff will be implementing. He pointed to the changes the department is currently undergoing.