Gray Continues to Support Embattled Fire Chief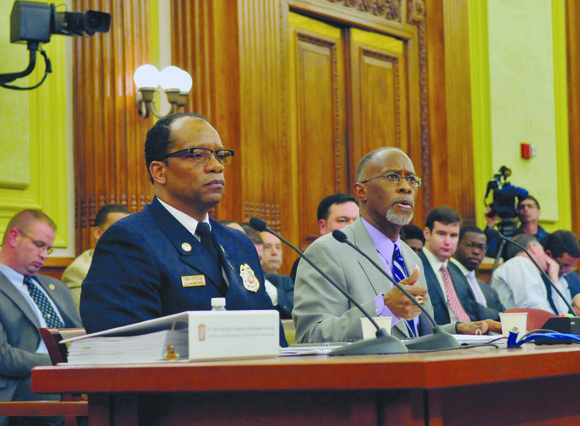 "Through the cadet training program we'll have a greater percentage of firefighters from the District," said Gray. "We've invested in upgrading the department, we're spending $8 million over two years to replenish equipment and modernizing fire stations. We have the kind of shifts that reflect the continuing growth and development of the department."
"I really would be excited to have a council chair with oversight who knows what he's talking about."
Gray describes Ellerbe as a strong leader, a smart, dedicated fire chief and a person who's been willing to tackle entrenched problems and find solutions in a thankless job.
He cited the purchase of 30 new ambulances, improved response times arriving at scenes and the hiring of new employees, including paramedics, as evidence of continuing change.
To remove any hint of politics, Wells said he called Quander and told him to take as much time as he needed to do the investigation and complete the report. "They came in with a very thin report. They left important information out. It appeared that it was incomplete."
"The other details that were left out in the internal investigation were leaked. They've been misleading and have not been transparent."
Quander released a 13-page report that blasted fire department and EMS personnel for the multiple failings of D.C. firefighters at a Rhode Island Avenue station and dispatchers that resulted in the death of an elderly District resident.
A fire crew at Engine House 26 on Rhode Island Avenue, N.E., across the street from the Brentwood Shopping Center and individuals attached to the dispatch unit – nine employees in all – face a disciplinary panel and sanctions because of their actions on Jan. 25, according to the findings of the 13-page report.
The employees in question face proceedings before a panel of senior officials who will determine how they'll be punished. Quander said in the report that there were "substantial lapses in judgment and the failure to adhere to established policy and procedures." The report offered a timeline of poor judgment, missteps and errors that resulted in Mills' death and recommends several remedies to ensure that this type of incident doesn't recur.
The report says that Lt. Kellene L. Davis, the officer in charge, failed to respond to two requests to come to the watch desk because of an urgent matter. A firefighter on probation was told to get an address which he did. But in the end, none of the five individuals in the station house walked across the street to provide medical care to Mills.
The report says Davis didn't enter into a log that bystanders sought help and she also failed to notify the battalion fire chief of the incident.
Davis, a 28-year veteran and the ranking officer at the station, has been placed on administrative leave with pay. Meanwhile, neither the 911 call taker, the lead fire dispatcher, nor two EMS radio operators noticed that the address was wrong and they sent the ambulance responding to Mills' medical emergency to the wrong quadrant.