Groups Dismayed over Fort Ward Plan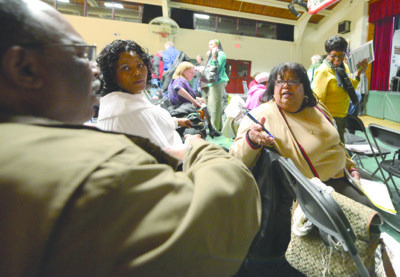 In a December 13, 2013 letter of apology addressed to "Descendants of Fort and Seminary communities," OHA director J. Lance Mallamo said he would welcome the descendants' review of the draft, and offered to work with them on another document "that approaches the history of the Fort from a different, but equally significant, point of view."
The mistrust increased during the February 24 meeting when mention was made of a separate report on preventing rainwater erosion of gravestones around the park's Oakland Baptist Church. "But I just got a copy of the report [tonight]!" said Frances Terrell of the Seminary Civic Association and Oakland Baptist Church. "You're the only [group representative] who didn't get it," said Lardner.
Another meeting about the plan will be held on Saturday, March 8 in the St. Stephen's and St. Agnes School from noon to 4 p.m. A city government website has been established for public comments on the plan at: http://apps.alexandriava.gov/ WebComments/CommentBoardSummary.aspx?id=39
"Our communities don't always have Internet access," noted Washington. "This plan is being pushed ahead [anyway]."
Representatives of Alexandria's Commissions on Parks and Recreation, Environmental Policy and Historic Alexandria Resources will meet later in March to review the plan and comments. The plan will be sent to Alexandria's City Council for a vote on a date to be determined.