Gun Violence Aimed at Black Males Triggers Concern
Freddie Allen, NNPA Washington Correspondent | 3/5/2014, 3 p.m.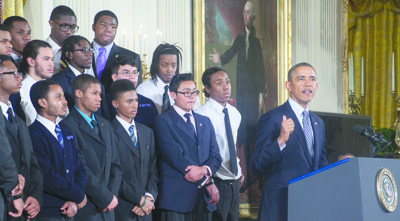 WASHINGTON (NNPA) – Several new studies confirm what most people have suspected all along: No group is harmed more by gun violence than young black males.
"While 13 percent of Americans are black, in 2010, 65 percent of gun murder victims between the ages of 15 and 24 were black," according to a report by the Center for American Progress (CAP). "Forty-two percent of the total gun deaths of individuals in this age group were of black males."
This trend has continued, the report noted, even as crime rates decline.
Another report on gun violence by the Children's Defense Fund (CDF) mirrors the CAP findings.
"Between 1963 and 2010, 59,265 Black children and teens were killed by guns – more than 17 times the recorded lynchings of Black people of all ages in the 86 years from 1882 to 1968."
The Children's Defense Fund study also reported that, "Black males ages 15-19 were nearly 30 times more likely to die in a gun homicide than White males."
Yet another study on black homicides in the United States by the Violence Policy Center, shows that 8 percent of black homicide victims never reached their 19th birthday and the average age of black homicide victims was just 30 years old.
But the numbers tell only part of the story.
"More than 1 million years of potential life are lost due to gun deaths each year," the CAP report found. "These are years of life that young people killed by guns would have achieved educational milestones, entered the workforce, had families, and contributed to the social, economic, and cultural advancement of society in untold ways – all erased by gunfire."
Neill Franklin, a 34-year law enforcement veteran of the Maryland State Police and Baltimore Police Department, said that the proliferation of guns in the black community is directly
linked to the growth of illegal drug markets there and the failed War on Drugs.
Franklin worked as a narcotics agent early in his career and is now the executive director of Law Enforcement Against Prohibition, a nonprofit group of current and former law enforcement members who advocate for reform in existing drug policies in the United States. Franklin said that guns were tools of the trade for managing the drug territories.
Franklin said that there's no major drug organizations controlling drug traffic in the cities anymore, just little independent drug dealers on the corners fighting for market share and the "stick up boys" robbing the drug dealers.
Part of the violence can be attributed to the way disputes are settled on the streets.
"Now whenever there is a dispute of any type, whether it's over a girl or something that someone said, or if somebody's shoe gets stepped on, the way
to settle that argument is with a gun," Franklin said.
Add the easy availability of guns to that dangerous mix and the problem is compounded.
According to a report by the Children's Defense Fund on youth gun violence "virtually anyone can buy a gun without a background check."