Howard U. Graduate, Attorney Publishes Memoirs
Pettit Details Groundbreaking Civil Rights Cases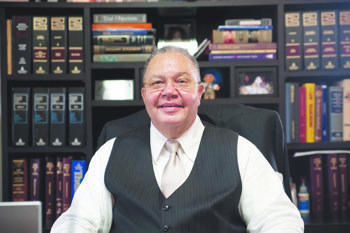 Attorney A. Dwight Pettit would much rather be working on his golf game.
After all, he's 68 years old, and he has earned enough money to ease into retirement and enjoy the fruits of more than four decades defending and representing clients, particularly those whose civil rights have been violated.
However, the longtime attorney has seen his caseload explode over the past decade, mostly because of civil and human rights violations which he said are being carried out under the color of law, which happens to be the title of his new book, an autobiography which details several monumental legal victories he's secured including a landmark 1972 case in which Pettit represented his father.
"My father and I had been involved early on in the civil rights movement when we moved to the Baltimore area and I attended Aberdeen High School," Pettit said.
Since litigating a historic case on behalf of his father, Pettit has remained vigilant about cases in which he said law enforcement officers illegally take advantage of individuals by misusing their authority, acts that are performed under the color of law.

Pettit's father, George Pettit, initiated a lawsuit against the Maryland's Harford County School District, which eventually forced the integration of the all-white Aberdeen High School.
Pettit, represented by future U.S. Supreme Court Justice Thurgood Marshall won his suit and his son gained admission to Aberdeen High School and graduated in 1963.
"When my father fought for civil rights, he was a black engineer and was retaliated against in a horrible manner," Pettit said.
"He was denied promotions and pay increases and when he came to work, his supervisors and co-workers would hang rebel flags in his office and he was referred to as, 'boy.'"
About a decade after Pettit's father successfully fought discrimination laws that allowed blacks to enroll at Aberdeen, Dwight Pettit launched a civil suit to address the retaliation heaped upon George Pettit.
He argued his father's case in the U.S. Court of Federal Claims in Northwest and successfully established a standard of proof for back-pay awards in discrimination cases.
The case became the first in the nation to award a federal employee retroactive pay for past discrimination, something that pre-dated and paved the way for many equal opportunity laws, including affirmative action.
As detailed in his new book, "Under Color of Law," Pettit received assistance from the famed Washington, D.C., firm, Covington & Burling who assigned the case to attorney Paul Tagliabue, who later became commissioner of the National Football League.
His team of lawyers also included Juanita Jackson Mitchell, the first African-American woman to practice law in Maryland, and Jack Greenberg, who litigated the landmark Brown vs. Board Education case that overturned the "separate but equal" doctrine in America.
Pettit, who in 2004 won the largest constitutional rights verdict in Maryland history, has handled some of the highest profile criminal and civil cases in that state.
He said his practice has boomed over the years because of police brutality and excessive force cases.