Howard U. Graduate, Attorney Publishes Memoirs
Pettit Details Groundbreaking Civil Rights Cases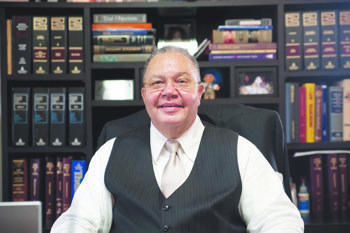 "That's keeping me in business and what's happening is that [authorities] are doing these things under the color of law," Pettit said.
"We have to be careful, especially as African Americans," he said.
"We have to be apprehensive about not going backward especially when you look at what's happened with affirmative action, voter registration laws, and the draconian prison sentences young black men are receiving and packing the prisons, which are now just a business. All of these things are being done under the color of law."
Married for 46 years to his wife Barbara and originally from North Carolina, Pettit attended Howard University in Northwest from 1963 until 1967, where he earned a bachelor's of arts degree. He received his juris doctorate from the Howard University School of Law in 1970.
After graduating from law school, Pettit began a career as a trial attorney for the Small Business Administration in Southwest under President Richard Nixon.
President Jimmy Carter, whom Pettit still counts as a close friend, appointed Pettit to the seat of state attorney general in Maryland but senators blocked the appointment without ever detailing why.
Pettit said he hopes his new book will shed light on how far the nation has come, and how far it still has to go.
"We must ensure that all are aware of the dangerous pitfalls and dark caverns that still exist in our society," Pettit said.
"This is a young nation, where obstacles and entrenchment can easily be resurrected during the fog of complacency created by past accomplishments."