Industrial Bank Author & Artist Spotlight: Del Travar
H.E. Palmer Jr., Industrial Bank of Washington | 3/5/2014, 3 p.m.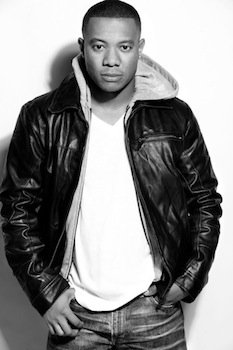 As 2014 begins, singer/songwriter Del Travar is perfectly positioned to achieve great things this year. After all, he closed 2013 with a list of accomplishments that most people only dream about. Travar was one of few artists selected to perform in the company of the First Family during the 2013 White House National Christmas Tree Lightning. He had the privilege of meeting the President and First Lady, sharing a laugh with Mariah Carey, and schmoozing with the likes of Train, Janelle Monae, Renee Flemming and Arturo Sandoval among many others.
Born in Richmond, Virginia, Travar now considers Washington his second home. When asked about his youth, Travar is clear he didn't grow up with a silver spoon in his mouth. His background and life experiences provided the foundation for Travar's early growth and development as an artist. He said, "Everything I have experienced, and even some things I indirectly have experienced, allow me to write the story because I can in some way relate. Life provides us the best lyric."
Much of what kept him focused and traveling the right path in life was his upbringing. Travar says he comes from, "an old school family with a lot of country roots." He credits his mother with being the driving force in his life. Her philosophy? "Even though you have to live in the projects, you're not going to be out in the projects." With that, his mother had a vision for a better, brighter future which served as the launching pad for his star. Travar explained, "She took me out of the environment and put me in places where I could see and connect with the people she wanted me to be like. I was introduced to people who could help develop me to become that better person."
In 2005, Travar was selected to be a contestant on the mega-popular American Idol. He won over the original judges, Randy Jackson, Paula Abdul and Simon Cowell. After several knock-out performances, he advanced to the semi-final round and has not lost any momentum since. Evidence of his talent is seen by scanning Travar's 2013 itinerary which included appearances on both coasts, Washington, DC's National Cherry Blossom Festival, the nationally televised Central Intercollegiate Athletic Association (CIAA) Basketball Tournament Half-time Show in Charlotte, The Amazing Grace Conservatory alongside comediennes Niecy Nash & Wendy Raquel Robinson in Los Angeles, and The DC Love Festival also featuring Raheem DeVaughn and Marsha Ambrosia to name just a few.
Travar's musical style is diverse and innovative. His artistic influences span a wide range of performers including Donnie Hathaway, Phil Collins and Hall & Oates. He incorporates elements from several genres including R&B, gospel, pop and even country. "There's a variety of sound in music which enables you to connect with just about anything. There are a range of themes I want to address in my music. It's an ideal medium through which I can speak to the breadth of the human experience."Social media buzz for the previously released single, "What Love Feels Like" garnered Travar video placements on MTV.com and VEVO. Fans and newcomers to Travar's talent are sure to enjoy his new hard hitting single titled "Now You Want a Ring."
Travar is committed to maintaining a long and fulfilling career and recognizes that an important component to achieving long-term success is treating his craft as a business as well as an artist. One of his role models is Usher Raymond who, in Travar's opinion, has taken his art and transformed it into commercial and financial success beyond the entertainment industry. Through hard work, artistic talent and an entrepreneurial spirit, Del Travar is working diligently to establish his place in the music industry as a unique artist, entertainer and savvy businessman.