Lupita Nyong'o 'Overwhelmed' by Oscar Win
'12 Years a Slave' Actress, Cast Shine at Academy Awards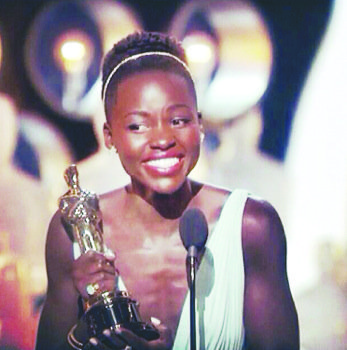 Lupita Nyong'o impressed with her dance moves, playfully wrestled with Jennifer Lawrence and photo-bombed actor Jared Leto during the 86th annual Academy Awards in Los Angeles on Sunday, March 2.
But the Mexican-born actress who grew up in Kenya, Africa, said winning the Oscar for Actress in a Supporting Role based on her portrayal of "Patsey" in "12 Years a Slave," proved overwhelming, especially considering the role counted as her debut and her competition for the honor included Lawrence, Julia Roberts, Sally Hawkins, and June Squibb.
"It doesn't escape me for one moment that so much joy in my life is thanks to so much pain in someone else's," Nyong'o, 31, said of the individuals who lived through such a harrowing ordeal that inspired the film.
"And, so I want to salute the spirit of Patsey for her guidance, and for [author and former slave] Solomon Northup, thank you for telling her story and your own," she said as tears filled her eyes during an emotional acceptance speech at the Oscars.
More tears would eventually flow when the movie Nyong'o starred in, "12 Years a Slave," captured the coveted Best Picture award, validating a Hollywood season dominated by high-quality and critically-acclaimed black films such as, "Lee Daniels' The Butler," "42," "Fruitvale Station," and "Mandela."
Based on Northup's 1853 autobiography, "12 Years a Slave," has repeatedly been hailed as a landmark which accurately depicts slavery in its truest and most cruel realities.
"This wasn't 'Gone With the Wind,'" said Keisha Davis, a Northeast resident who joined a party of 27 friends to see the film upon its release last year. Davis said she subsequently saw the movie another six times.
"The movie presented a true picture. It was raw and it didn't sugarcoat any of that wretched history and nor should it have," said Davis, 29.
Prior to the Oscars, the Washington DC Area Film Critics Association (WAFCA) awarded the Steve McQueen directed film six honors, including Best Picture, Best Actor (Chiwetel Ejiofor), Best Supporting Actress (Nyong'o) and Best Adapted Screenplay (John Ridley).
"This story of perseverance and the triumph of the human spirit over degradation and misery appealed to our members in a powerful way and I'm proud of the choice that we collectively made," said WAFCA president Tim Gordon.
Following his Oscar triumph, McQueen also displayed a lot of emotion as he dedicated the award to the honor of those who suffered slavery and the 21 million people he said who still endure slavery today.
"Everyone deserves not just to survive, but to live," said McQueen, 45. "This is the most important legacy of Solomon Northup."
Others in the cast, including Ejiofor, Brad Pitt, and Nyong'o, echoed McQueen's statements, sentiments that spilled over even before the film captured the award.
Oscar's host Ellen DeGeneres told those gathered at the ceremony and the estimated tens of millions watching on television, that the night could end in one of two ways.
"Possibility number one, '12 Years a Slave' wins best picture. Possibility number two, "You're all racists," DeGeneres, 56, said of the Academy of Motion Picture Arts and Sciences.
Clearly, however, the night belonged to Nyong'o, who won the award despite "12 Years" counting as her acting debut.
Kenyan President Uhuru Kenyatta called Nyong'o the pride of Africa. In a statement praising the actress, Kenyatta said excellence inspires and deserves emulation.
"Lupita reminds us of all that is possible for the youth of this nation when they set their hearts and minds to a great task," he said.
Upon receiving the award for Actress in a Supporting Role, Nyong'o made sure to pay homage to her entire cast, her family and friends.
She also used the platform to encourage others.
"When I look down at this golden statue, may it remind me and every little child that no matter where you're from, your dreams are valid," she said.