Marion Barry Leaves Hospital, But Not D.C. Council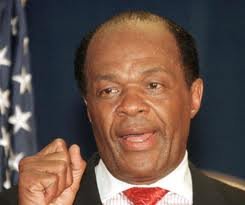 D.C. Council member Marion Barry (D-Ward 8) left the MedStar National Rehabilitation Network in Northwest on Wednesday after being treated for an illness but made it clear that he is still the ward representative.
There has been talk in Ward 8 about who will eventually replace the former mayor, especially after the latest bout with his health.
Barry, 77, said that he plans on staying around for a while.
"My term [on the D.C. Council] ends in 2016 and I will take it as it comes," he said on whether he will run for re-election that year. "I intend to serve out my full term. The great majority of the people of Ward 8 love me and I love them."
A few weeks ago, Barry reported to Howard University Hospital in Northwest for a general checkup when it was discovered that he had a urinary tract infection and blood infection.
"The infections were a result of the kidney transplant that I had five years ago," he said.
Barry said that the infections affected him adversely and that he needed time to heal. He said he has been in touch with his council colleagues and his staff regarding matters related to his job.
Barry said that, unlike in the past, he will be deliberate about his recovery.
"I am not going to rush back to the Council," he said. "Sometimes, I have neglected my own health to help other people. No more!"
Barry, who did not give a timetable for his return to his office, refused to divulge his pick for mayor in the April 1 Democratic primary.
Barry is under the care of Dr. Robert Bunning, an orthopedic rehabilitation specialist who said that Barry has largely recovered from the infections but will still be monitored closely. Barry is expected to go to his home in Southeast and will work with an occupational and physical therapist.
Barry disputes rumors that his life was in grave danger.
"Your political enemies make up things and spread rumors," he said. "My life was never threatened. I am the most popular elected official in Washington, particularly in the black community and I love the people of Washington."