MUHAMMAD: Obama Now 'Another Brother'?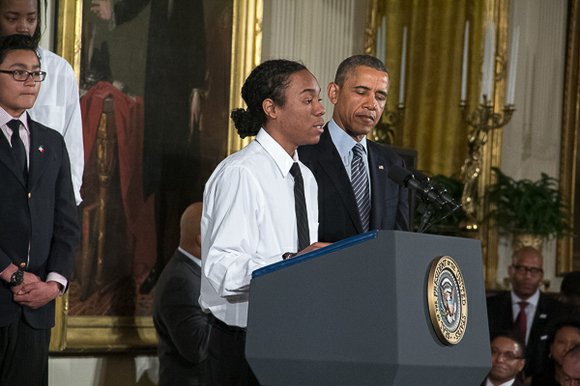 President Barack Obama is in the unenviable position where, if he were to literally walk across the Anacostia River on top of the water, without the aid of a bridge one day, some of his various critics, adversaries, and haters would invariably denounce him. "Aw the Dude can't even swim!" at least one person would complain. "How come he didn't pick some trash along the way? He couldn't help noticing how polluted that waterway is," another person would probably carp.
That's because right now, he is Mr. POTUS, as in President of the United States. Receiving sharp criticism is part of his job description.
There is an African proverb which describes the conundrum in which this first president who is literally a son of Africa now finds himself. It says: "If a stepchild washes, he's wasting water. If he doesn't wash, he's dirty."
This president's latest venture into the land of "Damned if you do, and damned if you don't," is his recently announced venture called "My Brother's Keeper," intended to assist young Black and Latino males. President Obama recently signed a Presidential Memorandum establishing the My Brother's Keeper Task Force.
The White House describes "My Brother's Keeper" as "an interagency effort, that will help us determine what public and private efforts are working and how to expand upon them, how the federal government's own policies and programs can better support these efforts, and how to better involve state and local officials, the private sector, and the philanthropic community in these efforts:" efforts to help young Black men.
That same evening, I chanced to encounter the Rev. Anthony Evans, a Black conservative who is an avowed "Obama Hater" with the National Black Church Initiative. As we approached one another, the Rev. Evans teed off. "He didn't even announce any legislation. There isn't even any government money in this. How is that supposed to work? He left us in the hands of philanthropists, White liberals. At least we know how White conservatives feel about us. These liberal [deceivers] are the reason why we're still in trouble today."
"Did Obama Just Become 'The Black President'?" reads the smug headline on the blog by columnist Richard Prince on "The Root." But the president's friends in the Congressional Black Caucus were unambiguous with their support.
"Statistics show that African-American males have a greater risk of being in categories that prevent them from realizing their full potential, such as having higher incarceration and dropout rates," CBC Chair Marcia Fudge (D-Ohio), said in a statement. "But we know this is neither due to a lack of ability nor a lack of will, but a lack of opportunity and support.
"Developing and implementing effective solutions that invest in rather than dismiss these young men are proven to have tremendous results. The President acknowledged a number of these programs, including the highly successful '5000 Role Models of Excellence Project,' launched 21 years ago by Rep. Frederica Wilson (D-Fla.) in Miami. I believe 'My Brother's Keeper' will provide initiatives like this one the platform and scale needed to benefit thousands more young men across our nation. The support they will receive through 'My Brother's Keeper' will not only change their individual lives, but will also socially and economically benefit our nation," said Rep. Fudge.