THE RELIGION CORNER: The Shift — The Day Everything Changes!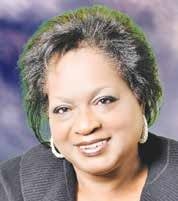 One of my favorite authors, Wayne Dyer, made this quote famous: "Change the way you look at things, the things you look at change." For the past 15 years or so, many of my friends have said to me how great they think I am; they tell me "You have such excellent experience working in Washington, D.C.!"
Well, I didn't feel the same way. Although my work has been at very high levels, personally, I hadn't changed the way I was looking at things.
A sharecropper's daughter who picked cotton; who made it out of a violent, domestic marriage; I only saw myself as someone who could organize events of any size, from 100 to 100,000 or even more was all I could see; a background singer, never the lead.
I saw myself as someone who lifted other peoples' visions. I helped a man erect a national monument to 209,145 black soldiers who fought in the American Civil War. For this same man, I coordinated parades down Pennsylvania Avenue, major events on the National Mall and theater shows with famous celebrities.
And though my work included appointments as parade chair by two District mayors, and I successfully coordinated the Inaugural Parade; I've been seen and heard around the world, speaking on programs on C-SPAN – I still didn't get it. Why hadn't I changed the way I was looking at myself?

That day has finally come! His grace is sufficient. Just last year, from August to November; there were two things that happened which gave me a kick in the pants. Both seemed negative; yet these betrayals helped me make the shift needed to go forth with a vengeance.


At that time, my prayer to God was "Lord, show me why these things have happened to me. Help me see the message in this mess. I know I'm your child, I write this column to help others at a cost to myself; and now my radio show is to help others as well. So why Lord, did these things happen to me?"

I give in and I give up, because I know my favorite scripture, Romans 8:28 says "And I know that all things work together for good, to them who love the Lord, and who are called according to His purpose."
Today, I'm free! Freedom comes from knowing that constant good thoughts yield constant good feelings. It's up to you to change the way you look at the old and the new. Well, that's my shift. Will you join me? Make the dreams the Lord has placed in your spirit a reality.

There's much more to what the Lord has placed before my hands too, and with His help, I've pledged to do all I can, for as long as I can.
My mind, my new way of thinking, has moved me out from the background, no longer working to make someone else's dreams become a reality, though I'm grateful to have had the opportunity.
My church and community work will continue. Yet my promise is that I remain steadfast on my own assignments.
I pledge to spend the rest of my life, fulfilling the dreams and goals the Lord has placed in my spirit. I promise to do His Will.
Exciting things are already coming forth in my life … suddenly; I was invited to the White House this week to see a movie, hosted by First Lady Michelle Obama. A special thank you to Dr. E. Faye Williams for the invitation; and there's so much more to come!
Listen when you hear Holy Spirit leading and guiding you. There must be a shift in your life too. So, assess your life. Create and hold steadfast thoughts full of joy and happiness. Come out from the shadows. You will have the confidence to play the starring role in your own visions.
Lyndia Grant is an author, inspirational and motivational speaker, radio talk show host and columnist. Visit her new website at www.lyndiagrant.com or call 202-518-3192 to contact her. Tune in Fridays at 6 p.m. to the radio talk show on 1340 AM (WYCB), a Radio One Station.