Ward 8 Clinic Offers Affordable Services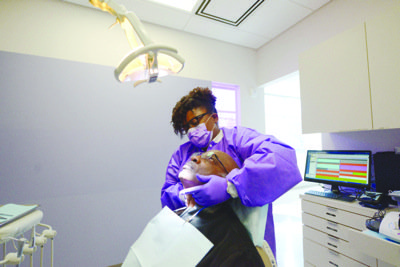 Carol Dyson, 72, has lived in the Bellevue/Conway community in Southeast for more than four decades, and during that time she's seen its landscape change, resulting in neighborhoods beset with apathy and a lack of essential services like affordable health care.
But with the recent opening of a state-of-the-art health center nearby, Dyson feels like her community is beginning to reclaim some of its charm.
"This shiny, new building looks good and has already improved the appearance of the neighborhood," Dyson said during a recent tour of the four-story Community of Hope Healthcare Center located on Atlantic Street in Southwest.
"The people in the community that I've talked to, are very pleased and impressed that we
have a facility like this within walking distance," she said. "This building means that people in our community no longer have an excuse for not keeping up with their health. It's in a great location and there's plenty public transportation, which means people can get here."
Before the 50,000-square-foot clinic opened on Jan. 22, area residents usually patronized health clinics in areas such as Congress Heights and the United Family Medical Center in Southeast and Fort Washington, where they often voiced frustration having to wait for care in long lines.
But with the addition of the District's latest Community of Hope facility conveniently located in their backyards, health care for many of the area's disadvantaged residents will be both more accessible and affordable.
"Because we just opened a month ago, things are still relatively quiet around here," said Kelly McShane, executive director. "However, at full growth we expect to serve 10,000 people and accommodate 40,000 visits a year," she said. "In doing so, we're not looking to take any services away from other providers, but we want residents opting for health care closer to home, to know our doors are open."
McShane said that the pristine $26.5 million building, which offers medical, dental and mental health care, is an extension of two other Community of Hope centers in Northwest and Northeast.
Touted as a "one-stop" center with six full-time physicians and 18 examination rooms, the building is also equipped with 11 dental chairs, making it one of the largest dental facilities in the District.
In recalling how the clinic came to fruition, McShane referred to a Rand Corporation health care study that focused on District communities most in need of health care access. The zip code 20032, where the new center is located, was chief among those identified.
"The Rand report (from a few years ago) was what really drove [the] establishment of the new center," said McShane. "We held a lot of community meetings and talked to lots of neighbors for feedback, and they also wanted to know about employment opportunities and training. So we developed a job training program as a component of the center."
McShane said that so far, about five people from the community have been hired to assist with outreach services. She added however, that as officials continue to staff the center, they expect to recruit, train and hire more people with roots in the Bellevue/Conway community.