Andy Shallal Won't Quit D.C. Mayor's Race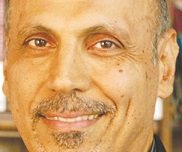 District entrepreneur Andy Shallal, owner of the highly successful Busboys and Poets restaurant chain in the Washington area, said Thursday that he is not quitting the mayor's race despite low numbers in several polls.
"Rumors always swirl around political campaigns, and commentators get obsessed with the horse race instead of helping voters understand the differences between candidates on major issues," he said. "So let me say unequivocally that I will remain in this race because my campaign is not just about winning. It's about people who have no voice, the people who experience hardship in the shadows of the construction cranes."
Shallal, 58, will compete with seven other candidates in the April 1 Democratic primary for mayor.
He has yet to receive any major political endorsements yet, but isn't easy to dismiss because of his vast resources — largely due to his personal wealth and his credibility in the District's progressive community. His messages of economic inclusion and education reform have also resonated east of the Anacostia River.
He cited his success at a recent candidates' forum in Northeast as a sign that he is making inroads with voters.
"Last Saturday, for example, in an exit poll at the Ward 7 Democrats Forum, more than 22 percent of the 258 respondents favored me for mayor compared to 12 percent for D.C. Councilwoman Muriel Bowser, who had touted her Washington Post endorsement to the audience at H.D. Woodson High School," Shallal said. "Meanwhile, the current mayor, the frontrunner in several media polls, failed to win over the majority of the audience, even though his supporters were out in full force.
"Only 36 percent of the respondents in the poll supported [Gray's] re-election and this is significant because Ward 7 is the mayor's home turf," he said.