Bill Cosby Joins Hundreds for Opening of New Ben's Chili Bowl in Arlington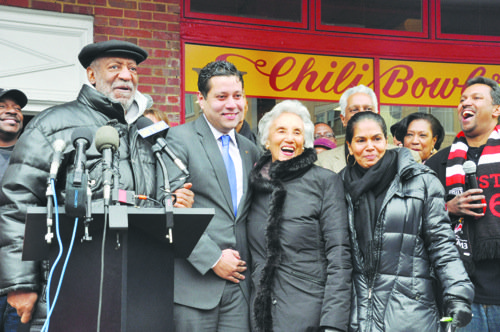 Hundreds of well-wishers, including famed comedian Bill Cosby, braved a dreary and chilly day for the grand opening of the new Ben's Chili Bowl restaurant in Arlington, Va., on Thursday.
Located at 1725 Wilson Boulevard, it is part of an overall expansion plan executed by the family of late restaurant founder Ben Ali. Another Ben's Chili Bowl is scheduled to open later this year on H Street Northeast, and a small eatery will open at Reagan National Airport.
"The reason why this establishment has decided to open here is for me," joked Cosby, whose long association with the Ali family reaches back to his days in the U.S. Navy in Bethesda, Md. "I'm going to have my 77th birthday in July. I am facing the fact that I can go anytime that I'm called. I did four years in the U.S. Navy, so I'm entitled to a military funeral. I want to be buried not too far from here, so that my ghost can come to Ben's.
"When people die, their spirits don't go to heaven. They come to Ben's. This is heaven," Cosby said.
Arlington County board chair Jay Frisette expressed his gratitude during the ceremony to the Ali family for choosing the location.
"I love chili," he professed. "I always say that you can eat chili for breakfast, chili for lunch, chili for dinner, and a half-smoke for dessert."
Frisette presented ceremonial keys to Arlington County to Cosby and to Ben Ali's widow, Virginia.
"I will use this key to park anywhere I want," Cosby quipped. "And I shouldn't get a parking ticket."
"Just stick it on your car windshield and tell it to the judge," Frisette said.
Marie Clair Burick, president of the Rosslyn Business Improvement District, welcomed the restaurant to the neighborhood.
"Rosslyn has become Arlington's downtown, and Ben's will add to its vibrancy," she said. "We are thrilled to have you here."
Dr. Neil Parsan, Trinidad and Tobago's ambassador to the U.S., congratulated the Ali family on its achievements, noting that Ben Ali was a proud native of Trinidad and Tobago who came to the U.S. in the 1950s.
"His heart was always in Trinidad and Tobago, and the Caribbean," Parsan said.
Dr. Bernard Demczuk, vice president of District affairs for George Washington University and Ben's Chili Bowl "historian," began a long explanation of how Arlington was once a part of D.C., and the origins of the name "Arlington."
"Is this story going anywhere?" Cosby interrupted to laughter from the crowd.
Harry Wingo, CEO and president-elect of the District of Columbia Chamber of Commerce, said he is excited about the restaurant branching out in the region.
"D.C. is where Ben's was born," he said.
After a ceremonial ribbon-cutting, the crowd jammed into the restaurant. Cosby — the only person outside the Obama family who eats at Ben's for free — was given the first half-smoke.
Everyone else paid for their meal, but no one seemed to mind.
"I'm telling you, this is good chili, and I should know," said Joyce Bennett of Dallas. "And I've never eaten chili with rice before."
Deborah Foreman of Alexandria, Va., liked the restaurant's half-smokes best of all.
"I've been eating at Ben's on U Street Northwest since the 1960s," she said. "On Sundays I would go to Ben's after church just to get a half-smoke."
Johanna Cole of Silver Spring, Md., said that, as a vegetarian, she loves the restaurant's vegetarian and vegan menu choices.
"But Ben's on U Street has an older feel to it," she said. "People have always gone to Ben's to hang out. This Ben's Chili Bowl will get that feel over time."