Interactive Sculptures to be Installed in Chuck Brown Memorial Park
dc.gov | 3/7/2014, 9:33 a.m.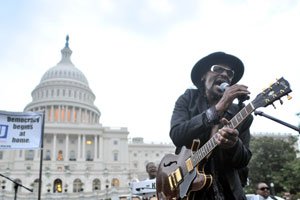 D.C. Mayor Vincent C. Gray and the DC Commission on the Arts and Humanities announced Friday the selection of local artist Jackie L. Braitman to create a permanent art installation at Chuck Brown Memorial Park that celebrates the life of the late musician.
Braitman proposes to create an interactive sculpture that reflects Brown's force of personality, echoes the "call and response" inclusiveness of go-go music and evokes the captivating rhythms of the Caribbean-inspired funk music.
"The new sculpture will help honor and elevate Chuck Brown's legacy," Gray said. "The installation will be a centerpiece of a vibrant and welcoming community space that will serve both the local community and the entire District."
The park, located at 1800 Franklin Street NE, broke ground last year. Braitman's creation is scheduled to be installed this summer.
"Public art seeks to engage audiences while enlivening spaces," said Lavinia Wohlfarth, acting chair of the commission. "The new 'Wind Me Up, Chuck' installation will do both, as well as celebrate one of the District's most influential musicians."
Braitman was one of 10 artists who responded last year to the commission's request for proposals. From that group, an panel selected three artists to further develop and present their proposals to the neighboring community, the public and Brown's family. After considering comments and feedback, the panel selected Braitman's design.
"The challenge to the artist is to create a work of art that communicates a multidimensional musician in a public space," said Lionell Thomas, the commission's executive director. "Artist Jackie L. Braitman responded with sculpture and designs that encourage the viewer to experience Chuck Brown's multiple contributions."
Braitman describes the "Wind Me Up, Chuck" installation as a park-within-a-park setting that invites passersby to enter and encourages them to stay.
The design installation is composed of:
• three steel plate figures representing Brown and two dancers placed on a concrete stage and dance floor
• an interactive LED display
• sitting walls surrounding both the stage and the dance floor
• landscaped park-setting
• laser-cut, stainless steel wall surrounds and signage
• stage canopy and solar array
The Chuck Brown Memorial Park project partners are the Executive Office of the Mayor, the Department of Parks and Recreation, the Department of General Services and the DC Commission on the Arts and Humanities.