D.C. Businessman Thompson Charged for Financing 'Shadow Campaigns'
James Wright | 3/10/2014, 1:30 p.m. | Updated on 3/10/2014, 2:53 p.m.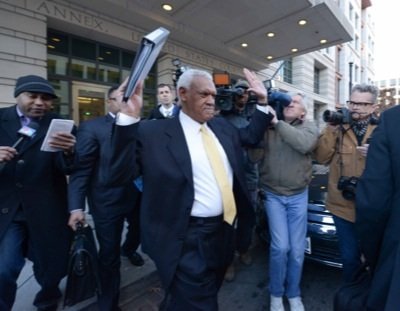 Jeffrey Thompson, a well-connected D.C. businessman, was charged in federal court Monday with conspiring to violate federal and local campaign finance laws by illegally funding campaign activity for local and national candidates such as former New York Sen. Hillary Rodham Clinton and D.C. Mayor Vincent Gray — a development that threatens to drastically alter the landscape of District politics.
Thompson was charged Monday in a criminal information, a document that is filed with a defendant's consent and usually means a guilty plea is in the works.

Thompson, 58, who has been a political campaign contributor and fundraiser for years, was the point person for the "shadow campaign" that helped to elect Gray (D) as mayor in 2010, prosecutors said.
Gray isn't named in the charging document, but Thompson is accused of funneling $668,800 to the campaign of a D.C. mayoral candidate between May and September 2010.
Thompson also contributed to District council and mayoral candidates as well as the election efforts of Maryland Gov. Martin O'Malley (D) and Clinton, the charging document states.
Thompson was the co-owner of one of the most successful black-owned accounting firms in the country, with work coming from the District and federal government. He also owned D.C. Chartered Health Plan, a managed-care provider for District residents that was worth $300 million annually.
U.S. Attorney Ronald Machen has been focusing on Gray's 2010 campaign aides such as Howard Brooks, Jeanne Clarke Harris and Thomas Gore, who have all pleaded guilty to various offenses.
The charges against Thompson come as Gray begins the stretch run of his re-election bid against seven challengers in the April 1 Democratic primary, several of whom have used the scandal as ammunition against him.
The mayor has steadfastly denied any misconduct or knowledge of Thompson's dealings.
"For too long, Mayor Gray's political opponents, pundits and even news organizations have relied on innuendo instead of facts. No one has suggested that Hillary Clinton knew of Thompson's illegal activities. Mayor Gray has not been afforded the same presumption of innocence," said Gray campaign manager Chuck Thies, noting that the mayor "called for this investigation."