NMA to Partner with Black Churches for Health Insurance Outreach Initiative
3/10/2014, 4:36 p.m.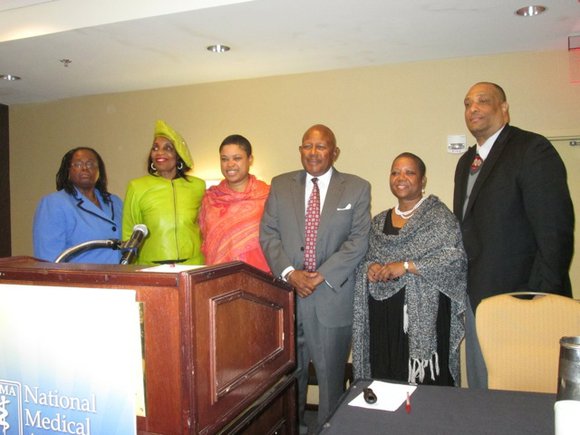 The partnership with Enroll America, African-American religious denominations, and the NMA will focus on the 11 states that have large numbers of African-Americans and others who are uninsured. The states include Arizona, Florida, Georgia, Illinois, Michigan, North Carolina, New Jersey, Ohio, Pennsylvania, Tennessee, and Texas. Enroll America has launched a grassroots campaign in those states called Get Covered America. The NMA's physicians will also collaborate with church leaders on events in Alabama, Louisiana, Mississippi, and other states with significant numbers of uninsured African-Americans.
NMA physicians will support Enroll America's Faith Initiative beyond the first open enrollment deadline of March 31 and continue throughout the remainder of this year into 2015, helping to educate, inform, and provide screenings for the uninsured.
Enroll America, the nation's leading health care enrollment coalition, brings together community and health organizations, businesses and others to inform consumers about the new health coverage options and how to enroll in them. It is an independent, non-partisan, non-profit 501c(3) organization.
The National Medical Association is the largest and oldest national organization representing African-American physicians and their patients in the United States. The NMA is a 501 (c) (3) national professional and scientific organization representing the interests of more than 37,000 African physicians and the patients they serve. NMA is committed to improving the quality of health among minorities and disadvantaged people through its membership, professional development, community health education, advocacy, research and partnerships with federal and private agencies. Throughout its history the National Medical Association has focused primarily on health issues related to African-Americans and medically underserved populations, however, it principles, goals, initiatives and philosophy encompass all ethnic groups.
For more information, contact David Thompson at 301-785-7670 or dthompson6@comcast.net; or Lon Walls at 301-996-1669 or lwalls@wallscomm.com.