Ophelia DeVore, 93, Famed Model, Businesswoman, Dies
Special to the NNPA from the Columbus (Ga.) Times | 3/10/2014, 2:13 p.m.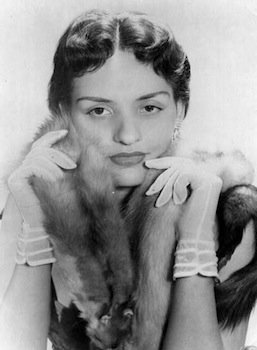 NEW YORK — Ophelia DeVore (Mitchell) died peacefully on Friday, Feb. 28, 2014. She was 92 years old at the time of her death. She was cremated and a memorial service will be held later in Columbus, Ga.
Known for her pioneer efforts in the fields of beauty, fashion, modeling, and entertainment, DeVore Mitchell was the first mixed race/African American high fashion model in Harlem the late 1940s. She exemplified power, pride, presence and beauty in African American women. Over the years, she added newspaper owner/publisher, business executive, producer and consultant to her long list of accomplishments. She traveled extensively in the U.S., Europe, Africa, Asia, Central America and the Caribbean.
The Augusta (Ga.) Museum had an exhibit on DeVore Mitchell and some of her personal possessions and newspapers (The Columbus Times) were donated to the museum. Some of her papers and other memorabilia are housed at Emory University's Manuscript, Archives, and Rare Book Library (MARBL).
DeVore Mitchell was born on Aug. 22, 1921 in Edgefield, S.C. to the late John DeVore and Mary Strother DeVore. She was the last surviving offspring of the DeVores. Her brothers were John, Claude, Joseph, Walter and Hammond; and her sisters were Blanche, Precola, Ruth and Dorothea.
She attended southern segregated schools as a child, but eventually went to live with an aunt in New York City, where she graduated from Hunter College High School before going on to major in mathematics at New York University. During this time, DeVore Mitchell began doing occasional modeling jobs and became one of the first non-White fashion models in the United States. At the age of 16, she was traveling and working for Ebony magazine.
In 1946, she enrolled in the Vogue School of Modeling, which until that time had excluded women of color. Later that year, she, along with four of her colleagues, founded the Grace Del Marco Modeling Agency as a way to help create opportunities for models of color. In 1948, she created The Ophelia DeVore School of Self-Development and Modeling. She opened the doors of modeling and television in the late 40s and early 50s for men and women of African American heritage and other minorities in the United States.
In 1955, it was the Cicely Tyson, who graced the cover of Ebony magazine with an Afro. She was registered with Grace Del Marco Models at the time of the publication. DeVore Mitchell also had a weekly television show in NYC.
She made history in 1959 and 1960 when two of her clients, Cecilia Cooper and LaJeune Hundley (a beauty queen from the Precola DeVore School-Washington, D.C.) were the first Americans, Black or White, to win titles at the Cannes Film Festival in Paris. Throughout the 1960s, DeVore Mitchell continued to revolutionize nearly every facet of the modeling and beauty industry. She created two of the first nationally known ethnic beauty contests in the U.S., developed a fashion column for the Pittsburgh Courier and created a line of cosmetics specially formulated for people of color.