Ophelia DeVore, 93, Famed Model, Businesswoman, Dies
Special to the NNPA from the Columbus (Ga.) Times | 3/10/2014, 2:13 p.m.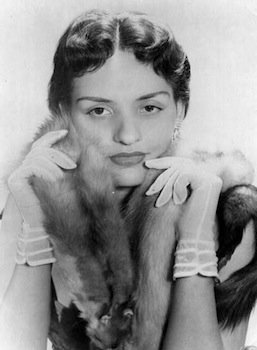 She was also a civil rights activist who received personal accolades from Dr. Martin Luther King, Jr. It was a given for DeVore Mitchell to take models to the Black colleges in the south, where there were prestigious fashion shows and self-esteem workshops; at the helm was DeVore Mitchell along with gorgeous women models. She taught, "Black is beautiful" long before it was popular.
In addition to creating opportunities to showcase African Americans in magazines, on the runway, in pageants and fashion shows, DeVore Mitchell started marketing to non-White audiences. As part of this project, she produced a massive promotional campaign for Johnson & Johnson that launched the career of supermodel Helen Williams. In 1955, DeVore Mitchell and her models made history as hosts of ABC's weekly television show, "Spotlight on Harlem." It was the first television program in New York produced by and for African Americans.
Beginning in the early 1970s, she became the owner/publisher of The Columbus Times in Georgia, where she set trends in reporting positive news about African Americans. During her decades in business, . DeVore Mitchell wrote a column for the National Newspaper Publishers Association (NNPA) and served on the board of the organization. She was a founder of the Black Press Archives at Howard University and was elected several times as the national secretary of the NNPA. She was also one of the founders of Black Media, an advertising agency developing marketing strategies for the Black-owned newspapers. The Columbus Times was turned over to her daughter and son-in-law, Carol and Helmut Gertjegerdes.
She produced several New York City cable television shows, including the "Ophelia DeVore Show," which became one of the longest running cable shows on TV. She was appointed by President Reagan to the John F. Kennedy Center Committee on the Arts in 1985. In 1991, assisted by her son James Carter, the two founded DeVore Carter Communications. Dr. DeVore Mitchell continued to oversee all her enterprises and her development programs touched more than 90,000 lives.
For her outstanding service, she received more than 300 awards and honors and was named one of the 75 Black women who changed America in the "I Dream a World" series.
Some of the organizations she held memberships in were: the NAMD (National Association of Market Developers), NNPA, the National Urban League, Top Ladies of Distinction, Continental Africa Chamber of Commerce, American Women in Radio and Television, National Association of Women in Radio and Television, and the National Association of Negro Business and Professional Women (BPW).
As one of the first African American and mixed race models in the United States, Ophelia DeVore Mitchell changed the face of the beauty, fashion and entertainment industries. Through her modeling agency and school, she fostered and promoted the careers of some of the country's top African American models, entertainers and television personalities.
Some of the lives she has touched as result of her half century of being in business were: Susan Taylor, Richard Roundtree, Fisher, Walker, Grace Jones, Larry Fuller, Diahann Carroll, Don Lynn,. Faith Evans, Tom Scott, Audre Smaltz, Duane Jones, Cicely Tyson, Gil Noble, Sue Simmons, Mr. Bennie Andrews, Ms. Lucille Rich, Mr. St. Clair Clement, Ms. Mary Farrington, Larry Dismond, Loretta Long, Dave Gardner, Mary-Elaine Verrett, Roberto, Flo Anthony, Mike Fields, Mary Farrington,. Judd Jones, Beverly Valdez, Albert Popwell, Helen Williams, Frank Hatchett, LuLu Guerrero, Don Ramsey, Elaina Brooks, Mike McDonald, Shirley Jordan, Dick Martin and Melissa Morgan.