National Kidney Foundation Offers Free Exam at HU Hospital
3/11/2014, 3:29 p.m.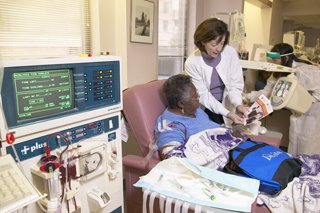 The National Kidney Foundation has teamed up once again with Howard University Hospital's Nephrology Division to offer its annual "March is Kidney Month" free kidney check-up through its KEEP Healthy program on Wednesday, March 26, 2014 from 10 a.m. to 4 p.m. at the Freemen's Hall located off the main lobby of the Howard University Hospital.
March is National Kidney Month and March 13 is World Kidney Day. In honor of these observances, people everywhere are asked to learn more about what kidneys do, whether they are at risk for kidney disease and ways to keep their kidneys healthy. Getting a free KEEP Healthy check-up will accomplish all this and more.
Six ways to reduce your risk for kidney disease:
Eat less salt and fat
Exercise regularly
Watch your weight
Don't smoke
Control blood pressure and blood sugar
Avoid excessive use of pain medication
KEEP Healthy participants will answer a brief health-risk survey and have their height, weight and blood pressure measured. Free educational materials will be provided and a medical professional will be on-site to review results and take questions from participants. Anyone with at least one risk factor for kidney disease is given a card to share with their healthcare providers encouraging them to learn more about two simple tests (blood and urine) for their kidneys. Information is also provided about local clinics and how to purchase health coverage through the new Health Insurance Marketplace in DC, MD and VA.
One in three Americans is at risk for developing kidney disease due to rapidly rising rates of diabetes and high blood pressure. Anyone who is at risk — those with diabetes, high blood pressure or a family history of kidney failure — is encouraged to attend. In the Washington, DC area there are approximately 700,000 people affected by kidney disease, nearly 6,000 on dialysis, and 1,500 waiting for a life-saving kidney transplant.
"Not only are African American more likely to be designated with chronic kidney disease at an early age, we are more likely to be diagnosed with the advance stage of kidney disease and kidney failure which pose a huge burden on our physical, emotional and financial well-being," said Dr. Constance Mere, NKF Board Member and nephrologist at Howard University Hospital.
Kidney disease is a 'silent killer' meaning that people do not know they are sick until their kidneys are severely damaged. For this reason, it is crucial to catch it during its early stages and treat it before it gets worse because kidney damage is irreversible leaving only two treatment options — dialysis and transplantation.
Kidney disease tends to run in families so it is important for people to talk to other family members and learn if they are at risk. Then, they should visit their doctor to share what they have learned and get any medical tests and treatment they need. The National Kidney Foundation provides a toll-free help line at 1-855-NKF-CARES (653-2273). There, patients, family members, and caregivers can speak with trained professionals.
To register for a KEEP Healthy near you or for more information, contact the National Kidney Foundation at 202-244-7900 x 20 or visit www.kidneywdc.org. Walk-ins are welcome. A great way to raise awareness and support programs like KEEP Healthy is to participate in an upcoming Kidney Walk by walking and/or forming a team. You can sign up at www.kidneywalk.org or call 202-244-7900 x 11.
The National Kidney Foundation (NKF) is the leading organization in the U.S. dedicated to the awareness, prevention and treatment of kidney disease for hundreds of thousands of healthcare professionals, millions of patients and their families and tens of millions of Americans at risk. For more information on kidney health, visit kidney.org.